Hyrule Warriors Leads The Charge For Nintendo Releases This Week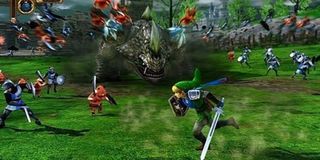 It's a relatively quiet week on the Nintendo front, but that's to be expected when a single big game is releasing and said single game just so happens to be Hyrule Warriors for the Wii U. Few publishers want to go toe to toe with Link and Co., so unless you're excited about pulverizing endless waves of baddies with a Master Sword, you might as well take a seven day nap until Smash Bros. hits the 3DS.
Make no mistake about it, Hyrule Warriors looks to make a big splash for Nintendo, so it makes perfect sense that nobody would really want to muddy the water or, more appropriately, utterly drown against such competition.
In case you haven't been following the news, Hyrule Warriors is basically a cross between the Zelda franchise and the Dynasy/Samurai Warriors franchises. Rather than slow down the action with all of that exploration and light RPG frills, Hyrule Warriors abandons the typical Zelda trappings in favor of all-out action. You'll have a large roster of series heroes to pick from and then get to take them out on adventures that boil down to basically smacking the stuffing out of an endless wave of baddies. Doing a good job rewards the player with oodles of gems to help upgrade and flesh out your roster.
"This legendary adventure through the beloved locales of Hyrule will have you battling the fiercest enemies in The Legend of Zelda history," reads the announcement from Nintendo.
If that doesn't sound like a grand ole time to you, then you're just about out of luck on the Wii U, with only a handful of smaller games releasing on the eShop and one pretty popular sports title. You can grab Angry Bunnies: Colossal Carrot Crusade, Darts Up and Spin the Bottle: Bumpie's Party for the former and Mario Golf: Advance Tour for the latter.
Things are actually less busy on the 3DS this week, with only one title arriving for the platform this week. No smaller eShop games, no Virtual Console offerings, just the latest iteration of the popular card battle series, Yu-Gi-Oh! ZEXAL World Duel Carnival.
"Play as one of 12 characters, each with his or her own storyline, and battle with 40 Duelists from the TV show to compete in the World Duel Carnival," reads the launch announcement. "Enjoy multiple game modes, a tutorial and customization options as you play with more than 5,700 cards from the Yu-Gi-Oh! Trading card game."
Not your cup-o-tea? Then hang tight until next week when Smash Bros. finally storms onto the scene.
Speaking of which, the final week of the "Super Smashing Sale" is underway for the 3DS, discounting a variety of games starring the brawler's cast of characters. You can also save a few bucks on Armillo and Swords & Soldiers for the Wii U, as well as Glory of Generals on the 3DS.
Staff Writer for CinemaBlend.
Your Daily Blend of Entertainment News
Thank you for signing up to CinemaBlend. You will receive a verification email shortly.
There was a problem. Please refresh the page and try again.