Images Of The Nintendo NX May Have Just Been Leaked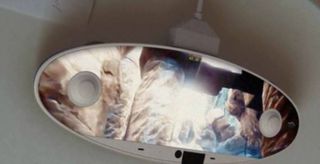 This morning, an alleged image of the new Nintendo handheld console, the NX, supposedly leaked onto the internet. You can view the image in a Tweet below.
The picture actually comes from an anonymous post at Dual Pixels. Destructoid actually reported on a possible leaked patent design for the Nintendo NX, pictured below, which actually matches the leaked photo from Dual Pixels almost perfectly. So could this be the new NX? There is a lot of doubt and claims of being fake surrounding the image (and maybe hope for it being fake?) because of how strange the console looks.
Image courtesy of Destructoid
Destructoid says that they actually ran the image through a program that can detect if it was Photoshopped or not. After compiling the results from the program, Destructoid concluded that the image of the Nintendo NX was, in fact, real.
So how does the internet feel about the alleged leak? They. Aren't. Happy.
People are taking to social media to express their concern for the alleged leaked hand-held Nintendo console.
And the hatred just kept on coming.
Despite many publications running the image through a Photoshop detector, many still believe that the image was tampered with, probably because no one wants to believe that this is really the long-awaited NX console from Nintendo. We'll continue to keep you up to date if we get any more new information on the story.