Kate Upton's Game Of War Ads Were Unbelievably Effective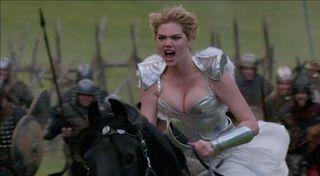 Game of War: Fire Age has managed to gain quite a bit of popularity, not because of its amazing graphics, revolutionary gameplay or some sort of remarkable advancement in technology. Nope. Game of War gains more than $1 million a day all thanks to Kate Upton and some very effective television ads.
LA Times has a detailed breakdown of the mobile ad arena, where publishers are constantly battling against cultural trends and marketing methods to attract as many players as possible to their little known mobile games.
According to the article, Machine Zone Games has managed to run 9,000 television ads for Game of War: Fire Age. If the name doesn't sound familiar, perhaps the ad will look familiar to you, featuring model Kate Upton.
The above ad has been viewed more than 7.8 million times after airing during the Super Bowl back in February. However, the ads have been incredibly effective, garnering Machine Zone the number 2 spot on the top grossing mobile games list and the number 38 spot as the top grossing free-to-play game. Clash of Clans and Candy Crush Saga are still crushing it on the charts, but Game of War is right up there with them.
According to Think Gaming, Game of War is raking in more than $1.2 million a day. Not only that, but the coveted DAU estimates (for daily active users who log in and actually put some time into the game) hovers around 2.4 million. So roughly, you could translate that into nearly half of all players who log in and play Game of War each day could spend $1 and it generates Machine Zone some ample revenue.
However, all of this revenue and canvassing of television with ads of Kate Upton and the little mobile game that could has come at a heavy price. Nothing gained is earned for free. According to the LA Times article, ISpot.tv, a financial ad tracking firm, has estimated that Machine Zone has spent $80 million on those 9,000 television ad spots.
The article notes that more companies are pouring big money into mobile marketing on television to garner audiences. We've recently seen Liam Neeson of Taken fame appear in an ad for Clash of Clans to startling success and popularity, and companies like King Digital Entertainment and Zynga have been at the forefront of mobile gaming and advertising, racking up a lot of revenue along the way.
However, that's only a small subset of the mobile gaming market. There thousands of games flooding the mobile gaming that go completely unheard of or unseen. According to Gamasutra there are 500 mobile games launched every single day on Apple's iTunes app store. How many of those go on to make $1 million a day?
There are random successes like Flappy Bird, and even Rovio – the creators of Angry Birds – chalked a lot of their success up to luck as opposed to nailing down some secret, scientific formula.
For those who don't hit the big numbers, there are repeated stories of developers opting to leave the mobile gaming space altogether due to the difficulty of turning a profit with their games. While mobile games are extremely popular and are played by billions of people the world around, there's an issue of getting the game seen and keeping people playing – maintaining that profit-positive DAU margin.
Other firms have experimented with various forms of advertising to a modicum of success, but it looks like there's two things that really can't be denied in the case of Machine Zone's Game of War: 1) spending big works wonders for putting eyes on your product. 2) Sex sells.
Staff Writer at CinemaBlend.
Your Daily Blend of Entertainment News
Thank you for signing up to CinemaBlend. You will receive a verification email shortly.
There was a problem. Please refresh the page and try again.