Candy Crush Saga Gets Sweeter With Dreamworld DLC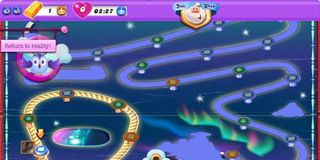 It's no secret that Candy Crush Saga is the "it" game of 2013, that one title that everyone and their mother is playing while sitting on the couch, waiting in line at the grocery store or in the break room during work. Well, it looks like developer King is looking to capitalize on that success, primed to release the game's first batch of DLC starting today.
Going by the handle "Dreamworld," this first content expansion for Candy Crush is now available via Facebook, iOS and Android, offering up a new game mode that, according to the developer, "transports players to a parallel world of dream-inspired levels, introducing a magical twist to the traditional Candy Crush game."
I'm sorry, maybe I'm confused here, but haven't we been playing with mountain of candies for the past year here? What part of that sweet little pastime isn't already inspired by dreams? Throw in a jetpack and a talking dragon and you've basically described a recurring fantasy of mine since I was five years old.
All of that aside, the new Dreamworld content will unlock for players after level 50 in the game proper. If you've already made it that far, it should unlock automatically as soon as you update to the latest version of the game. In this new mode, you'll play the same game boards from previous levels, but now they'll be presented with a new game mechanic included.
Odus the Owl is chilling on a perch above the game board, teetering on the edge of balance. Your job is to clear candies while simultaneously keeping the left and right side of Odus' perch from swaying too far in either direction.
This mode also offers up some new special effects, including the Moon Struck reward, which removes candies of a specific color from the board. All told, there are 65 Dreamworld levels available in today's update with play continuing to be seamless across Facebook and mobile devices. In other words, you can start playing on Facebook, pick up where you left off on your iPhone 62, then jump right back into the action on Facebook or another mobile device later in the day. Ah, simplicity.
According to King Games Guru (his title, not mine) Tommy Palm, the Candy Crush (opens in new tab) team are pretty-dang-excited to see the new levels and game mode get added to their hugely popular game.
"We hope that the new Dreamworld mode will prove a fun twist for newcomers to the game and a tantalizing challenge for our loyal fanbase," Palm said in the DLC launch announcement. "As with all our games, we endeavor to offer our valued players a regular flow of exciting new content—we hope that they will love the new map as much as we've enjoyed developing it."
Your Daily Blend of Entertainment News
Staff Writer for CinemaBlend.