Keiji Inafune's Yaiba: Ninja Gaiden Z Is Powered By Unreal Engine 3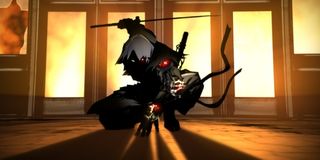 Tecmo Koei and Epic Games have signed on together in a deal that sees Koei licensing Epic's Unreal Engine 3 for Spark Unlimited and comcept's upcoming Yaiba: Ninja Gaiden Z, which will be helmed and designed by the legendary Keiji Inafune. The first images of the project have also surfaced, giving gamers a brief glimpse of what's to come.
The announcement came out of this year's Game Developer's Conference, where it was noted that Epic Games Japan – the subsidiary of the original Epic Games – brokered the deal between famed Japanese company Tecmo Koei and the Unreal Engine 3.
There was no mention of a site-wide license, so it's safe to assume that Koei will only be using Epic's UE3 for Inafune's Yaiba: Ninja Gaiden Z.
According to Inafune...
For those unfamiliar with Inafune's work, just note that Capcom wouldn't be half as popular as it is today without this guy. He was the one who pioneered Street Fighter, Rockman/Mega Man and the Dead Rising series for Capcom before parting ways and ultimately leaving the company to strive based on the legacy of talent no longer under their wing.
However, this re-imagining of Ninja Gaiden isn't a sequel to Razor's Edge, so says the head of Team Ninja, Yosuke Hayashi...
I have no idea if the Unreal Engine 3 will be up to the task of providing a 60fps experience for today's generation of consoles set within the Ninja Gaiden universe, but if the game happens to be a title planned for release on Sony or Microsoft's next-generation consoles, then the excitement levels will easily double throughout the gaming community. You can check out a brief teaser trailer for the game running on the PS3/Xbox 360 right here.
More information on the game will become available as the game advances through development. Expect to hear more at this year's E3. For more info on the Unreal Engine 3, you can visit their Official Website.
Image 1 of 8