Kingdom Hearts 1.5 HD ReMIX Finally Drops Onto PS3 This Fall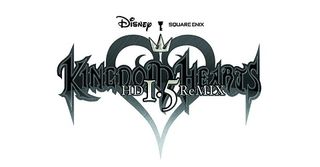 It's hard to believe, but the original Kingdom Hearts released for the PlayStation 2 a decade ago. Ever since Sony started releasing HD collections of previous generation games, the Kingdom Hearts series has been at the top of the list for fan demand. And now it looks like all of those wishes are finally coming true. Square Enix today announced that Kingdom Hearts 1.5 HD ReMIX will be headed to the PlayStation 3 this fall.
For those who missed out on the Kingdom Hearts series the first time around, it's basically an epic fanfic uniting the worlds of Disney and Final Fantasy with its own massive story and group of unique characters. The main hero, Sora, and his friends have been separated. In order to find his mates, Sora will have to team up with the likes of Goofy and Donald Duck and explore various worlds pulled straight from Disney's classic film collection. You'll run into characters from the Final Fantasy series along the way and even adopt summons, like Aladdin's Genie, in order to improve your prowess in battle.
According to a statement from Square Enix Community Manager Robert Peeler, old fans and newcomers alike will be able to explore the series' first chapter in glorious HD sometime this fall. Even better, Kingdom Hearts 1.5 HD ReMIX will also include the original game's Final Mix content, offering extra characters, stories and enemies that, until now, were never released outside of Japan.
Oh, and did I mention two additional games are included in this collection? KH1.5HDR will also include HD-ified copies of Kingdom Hearts Re: Chain of Memories, a card fighting game that dives deeper into the plot of the original game, as well as the next chunk of story in the series, Kingdom Hearts 358/2 Days.
The above linked post also encourages fans to keep their eyes peeled for future Kingdom Hearts news. Could it be another HD collection containing the remaining handful of games in the series? Or perhaps they're finally going to make Kingdom Hearts 3 a reality? No telling. Either way, at least you'll stay busy for quite some time once Kingdom Hearts HD 1.5 ReMIX drops this fall.
Staff Writer for CinemaBlend.
Your Daily Blend of Entertainment News
Thank you for signing up to CinemaBlend. You will receive a verification email shortly.
There was a problem. Please refresh the page and try again.