Kingdom Hearts HD 2.5 ReMIX Collector's Edition Detailed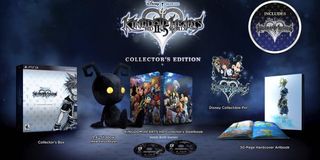 You wanted Kingdom Hearts, and now Square Enix is giving you Kingdom Hearts. They're going to give you so much Kingdom Hearts that your head will spin, thanks to the newly announced Kingdom Hearts HD 2.5 ReMIX Collector's Edition. Prepare your soul for all of the Kingdom Hearts, you foolish mortal!
So, you know how three Kingdom Hearts games were rolled into one tidy package and shipped out to the PlayStation 3 as an HD collection last year and how, in just a matter of four weeks, Square Enix is doing that again with another three HD-ified Kingdom Hearts games? Well, in case you missed out on 1.5 HD ReMIX and already plan on picking up 2.5 HD ReMIX, then Square Enix wants you to be able to kill all of the birds with one stone courtesy of a Collector's Edition for the latest title.
In case that was unclear, I'm saying that there is a super special version of 2.5 HD ReMIX that comes with 1.5 HD ReMIX packed in, alongside a whole bunch of other goodies, too. Now choke on it! Choke on all of that Kingdom Hearts goodness!
I apologize for the hostile tone. It's just that sometimes these Collector's Editions come with so much stuff that it almost feels like an act of violence crammed into an adorable box. I mean, we're talking about six full Kingdom Hearts games in a single collection here. You can only get it through Square Enix's website and, yeah, it's going to set you back $100, but that actually seems like a pretty reasonable price when you consider how many hours of gaming are stuffed into that six-game package, as well as all of the other goodies this special collection comes with. You can see some of the goods rolled out in the trailer below.
For starters, you get the obligatory steelbook case, sure to make you the envy of your friends and countless magnets. The discs will also feature "premium artwork" from Director Tetsuya Nomura—in case you want to frame them instead of play them, I guess—as well as a Collector's Edition box to store all of the additional trinkets.
Said trinkets include a 9.4" Shadow Heartless plush toy, which is every bit as adorable as you would imagine, as well as an exclusive Disney collectible pin featuring Sora and Mickey looking all BA with their keyblades.
There's also 30-page art book and dust jacket thrown into the mix and, for the only two Kingdom Hearts games not included in this mega collection (ignoring the long-awaited Kingdom Hearts 3, of course), you'll be able to enjoy movie versions of the plots to keep all of those nearly indecipherable details in order.
Supplies will be limited, of course, so you might want to pre-order that bad boy with a quickness
Staff Writer for CinemaBlend.
Your Daily Blend of Entertainment News
Thank you for signing up to CinemaBlend. You will receive a verification email shortly.
There was a problem. Please refresh the page and try again.