League Of Legends' PROJECT Skins Turn Your Characters Into Cyber Ninjas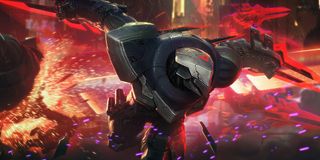 League of Legends has added a set of PROJECT skins for five of its characters. Riot Games is going to make a ton of money off them.
The PROJECT skins essentially turn characters into Raiden. They're covered from head to toe in sleek, chrome armor and wield neon weapons. Each champion's abilities have been "digitized" as well to complete the look.
The five characters receiving the skins today are Yi, Fiora, Lucian, Leona and Zed. Riot Games showed of all the PROJECT skins, including the previously released Yasuo one, in a new trailer:
Additionally, Riot released a gorgeous animated video that shows these characters facing off:
The bad news is that these PROJECT skins are pretty expensive. Fiora, Lucian, Leona and Zed's skins cost 1350 Riot Points apiece, or around $10. Yi's PROJECT skin costs 1820 RP, just like other Legendary skins such as Omega Squad Teemo and Forecast Janna. The higher price for PROJECT Yi is due to the new voiceover included with that skin.
Riot will be holding a sale on some of the skins soon. PROJECT Lucian, Fiora, Leona and Zed will cost 975 RP from September 17th to 24th. Doesn't look like they'll be cutting Yi's price at all, though.
To persuade you to buy the skins now, though, Riot is giving out a bonus to early buyers. If you purchase any PROJECT skin by the end of September 15th, you'll get a matching loading screen card. These loading screen cards will be permanently added to your account and will be exclusive to this promotion.
These skins will also have a cosmetic impact on the wider match during patch 5.17 (the current update) and 5.18. If one character on a team has a PROJECT skin, his entire squad will have a new spawn effect. If there are two PROJECT characters, the caster and melee minions will get a futuristic makeover. In the rare case there are three PROJECT characters on a team, the cannon minions will get a similar makeover.
Image 1 of 5