League Of Legends Players Can Earn Community Rewards Next Week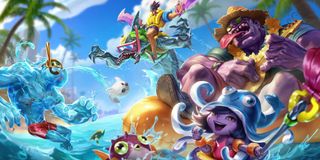 League of Legends summer event Pool Party will be launching soon. Before it arrives, though, Riot Games is giving players a chance to earn rewards for the entire community.
Team Up Week, running from June 15th to June 21st, allows players to earn points by playing together in five-player premade groups. They can earn even more points by giving out gifts (Skins, Champions, Rune Pages, RP). Here are the point gains for each activity:
5 points (per team): Win a matchmade game (no bots) on Summoner's Rift, Howling Abyss or Crystal Scar in a five-player premade party
10 points: Give a gift to another player
20 points: Give a gift to another player at the end-of-game screen
All territories except China will be able to contribute to the goal. A new Team Up Week hub will track the community's progress throughout the week. Any rewards earned by players will then be given out when patch 5.12 launches. Here's what will be unlocked at each level:
Party IP bonuses for five player premade games during Team Up Week - 5 million points
Tons of sales - 15 million points
Mystery Champion for connecting with Friend Discovery, Pool Party icon - 25 million points
Pool Party minions during patch 5.12 - 35 million points
Worldwide Party IP Weekend - 45 million points
Pool Party Mundo unlocked - 55 million points
The goals sound absurd considering how few points players earn from each activity. However, keep in mind A) LoL has millions of regular players and B) many of those players are absurdly hardcore. I don't doubt that the community will manage to hit every goal.
Pool Party Mundo is one of the new summer skins being released this month. It gives the Frankenstein-like monster a tropical makeover. He wears a straw hat and lei and wields a ukelele instead of a cleaver. Check him out:
A developer confirmed on Reddit that the Mundo skin will be given out for free for everyone who contributed points to Team Up Week. As long as you get one win with a 5-man premade team or send out one gift, you'll be set. Players who "don't meet a threshold for good behavior in 2015" will miss out, though.
Patch 5.12 will also add Pool Party skins for Draven, Lulu, Rek'Sai and Zac. Meanwhile, Chroma packs will be introduced for Caitlyn, Darius, Morgana, Rocket Girl Tristana and Zac. The patch implements an update for the HUD and a slew of balance changes as well.
Your Daily Blend of Entertainment News
Staff Writer at CinemaBlend.