League Of Legends Season Two Finals Watched By 8 Million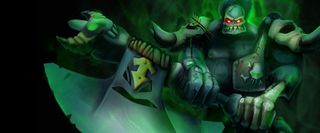 Earlier this month, Riot Games crowned the world champions for Season Two of League of Legends' competitive play. Riot took some time today to thank fans for tuning in, and also share some statistics about the playoffs.
The World Finals between Taiwan's Taipei Assassins and Korean team Azubu Frost was attended by over 8,000 fans. Furthermore, over 8 million people watched the event over TV and Internet streams. That total included over 2.4 million in Korea and China. About 1,154,000 gamers were watching online at one point.
Viewership was strong throughout the entire World Playoffs. Riot says that 24,230,688 hours of LoL were watched throughout the Playoffs and Finals. If you had an M&M for every hour of LoL that was watched, you would...uh...alright, I can't do fun facts.
The huge interest in Season Two's playoffs shouldn't come as a shock. LoL, in Riot Games' words, is "the most played video game in the world." Their internal statistics claim that there are 32 million monthly players.
Season Two's tournament was held at the Galen Center Arena at the University of Southern California. If you missed the event, Riot has prepared a video recap for you.
Your Daily Blend of Entertainment News
Staff Writer at CinemaBlend.