Leisure Suit Larry: Reloaded Spotlights Jasmine, Part Mermaid Part Marine Biologist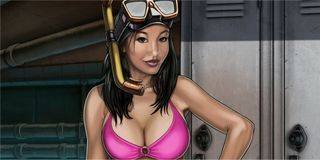 The Kickstarter for Replay Games' Leisure Suit Larry: Reloaded came onto the scene and managed to get fully funded following Tim Schafer and other classic adventure game developers making use of the crowd-funding scene. Well, with a release set for later this month, Leisure Suit Larry: Reloaded is gearing up with new promo content, including some of the ladies Larry will be able to woo in his leisurely new adventure.
In a fan-poll, gamers wanted Jasmine as one of the leading ladies for Larry to chase after and conquer. As noted in the press release...
Mid-20 something Jasmine works at Caesar's Phallus. A graduate with a degree in marine biology, Jasmine uses her talents for the aquatic life in a dual role taking care of Phallus' sperm whale Mr. Wiggles while also doubling as an underwater dancing mermaid, Zack Snyder's 300-style.
The game itself is a complete redo of the classic Sierra sex-romp adventure comedy from ages ago. Those of you looking to rekindle your youth or those of you looking to experience what made the golden era of gaming so great, can look for Leisure Suit Larry: Reloaded to launch on May 31st for PC, Linux and Mac for only $19.99.
Let's hope the power of Kickstarter can maintain traction beyond funding games, and can also prove to be a success with the sales of both new and old franchises alike...it just might be the new way to game for the next-generation.
[[ br. ]] official Kickstarter page.
Your Daily Blend of Entertainment News
Staff Writer at CinemaBlend.
Your Daily Blend of Entertainment News
Thank you for signing up to CinemaBlend. You will receive a verification email shortly.
There was a problem. Please refresh the page and try again.