Little Kid's Letter To Santa Claiming To Be Bowser Will Make You Laugh Out Loud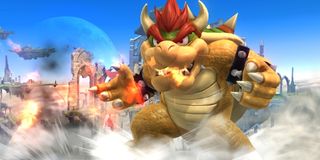 Let's face it: most kids' letters to Santa suck. Mine sure did. They were always like, "Hey Santa, I've been fairly uncrappy this year. Give me Lethal Enforcers!"
This kid's letter to Santa, though? This is a masterpiece.
Instead of writing from his perspective, the kid pretended to be Mario's nemesis Bowser. The evil King of the Koopa is hoping that Saint Nick will put him on the nice list in spite of his various crimes. Hilarity and poor spelling ensue. Here's an excerpt (via imgur):
Bowser then asks for a new castle for Christmas to replace the one that Mario "destoried." Unless Santa fulfills this wish, he'll be living on the street. No pressure, Santa!
Like all good letters, this one ends with a portrait of the person writing it. The clarification next to the drawing that this is "fan art" made me lose it:
The last days of school before Christmas break seem like they're the educational equivalent of garbage time. The kids are so amped up for their upcoming vacation and avalanche of presents that it's tough to imagine them sitting still, much less learning.
Writing a letter to Santa from a fictional character's perspective sounds like a productive experience, though. This kid learned how to compose a letter, make a persuasive argument, and empathize with a known kidnapper all at the same time.
Like this child, Nintendo has a soft spot for Bowser. He started out the series as pure evil but he's been downright likable in later games. He actually helps Mario save the day in games like Bowser's Inside Story and Super Mario RPG. On top of that, Mario Kart 8 revealed that Luigi's the true villain of the bunch.
Mario creator recently said that Nintendo's next console will put Mario into a "new role." Will he finally be revealed as the castle-burning villain that this child claims he is?
Staff Writer at CinemaBlend.
Your Daily Blend of Entertainment News
Thank you for signing up to CinemaBlend. You will receive a verification email shortly.
There was a problem. Please refresh the page and try again.