Luigi's Mario Kart 8 Death Stare Has Gone Viral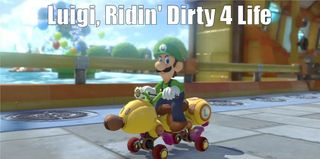 The death stare, a vicious look that cut deeper into the souls of men than a laser through a diamond. No one likes getting the death stare, but there's nothing you can do about it when it comes to Mario Kart 8, especially if Luigi is on the track.
The video above is one of a few that's just picking up traction and exploding across the interwebs like explosions in a Michael Bay film. The videos highlight the absurd hilarity of Luigi's crazy-mean death stare in the Wii U's sales-blockbuster known as Mario Kart 8.
In fact, the game has already moved 1.2 million copies in under three days, more than 325,892 of which came out of Japan alone. The game is also breaking records and trends for the Wii U all over the place, becoming the fastest selling and best selling title for the Wii U (within its launch window) since the console's debut in 2012.
Quite naturally, the popularity of Mario Kart 8 and all its new-school HD graphics and amazing visuals has opened the game up for the kind of scrutiny that only today's generation of gamer could appreciate... such as Luigi's death stare.
The combination of the ridiculous rap music with Luigi's gangster stare has given the game an all new vibe of meme-worthy content that I'm sure will be mined and spread across the interwebs thanks to places like 4Chan and Reddit.
The original video that was uploaded to YouTube over the weekend by user Rizupicorr, but it was then promptly remixed by CZbwoiz, managed to accrue more than 2 million video views. Additional videos and parodies that feature Luigi whipping out his death stare like Eminem whips out lewd lyrics have started popping up ever since.
The whole thing is completely over-the-top but if it keeps Mario Kart 8 in the news and keeps the hype high for the game, then it's all good because it'll continue to generate sales momentum for the Wii U, and we all know that Nintendo could use the boost.
The Big 'N' will need to keep their latest console trending in the sales discussions for at least two months, and if they can whip out some big megatons at E3 – while simultaneously reaping the benefits of viral memes – then the Wii U could manage to catch up to the PS4 and turn this console race into a two horse showdown for the 2014 holiday season.
In the meantime... keep riding dirty, Luigi.
Mario Kart 8 is available right now, exclusively for the Wii U. Need more info? Check out the official website.
Staff Writer at CinemaBlend.
Your Daily Blend of Entertainment News
Thank you for signing up to CinemaBlend. You will receive a verification email shortly.
There was a problem. Please refresh the page and try again.