Lost Planet 3 Delayed To August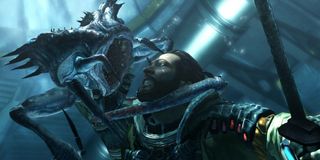 Capcom has pushed back their sci-fi shooter Lost Planet 3 again. A new fact sheet issued by the company (below) now states that the game will be arriving in August.
Lost Planet 3 is a prequel to the two other games in the series. It chronicles the early colonization period of E.D.N. III, an icy planet. Jim Peyton, a miner, is one of the first humans to settle on the planet. He'll have to contend with ice storms, the murderous creatures known as Akrid, and the snow pirates. He'll also uncover a conspiracy involving his employer NEVEC.
LP3's gameplay is a mixture of on-foot, third-person shooter sequences and first-person mech combat. A key difference is that Jim doesn't have a fancy military mech at his disposal. Instead, he must accomplish his missions with the more humble utility rig. His rig carries many useful tools, including a winch to snag enemies and a drill to, well, drill them.
Capcom is also planning to include several multiplayer modes with the game. They haven't said much on this front yet, though.
When Capcom first unveiled the game, they said it would arrive in the early months of 2013. In March, they announced a June release date for the game. Now they expect the game to launch on August 27th in North America and on the 30th in Europe.
Image 1 of 1
Your Daily Blend of Entertainment News
Staff Writer at CinemaBlend.