MMA Fighter Performs Street Fighter Move During Match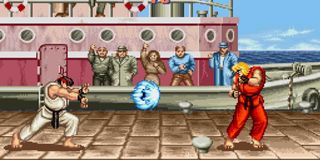 During a fight between Shane Campbell and Derek Boyle in the welterweight division at WSOF 18, Shane Campbell dropped Derek Boyle with a kick to the mid-section, and while Boyle was taking a breather Campbell decided to taunt him by posing as if he were shooting a hadouken from his hands.
Bleacher Report has an article up detailing how Campbell used the popular move from Capcom's Street Fighter series. They note that he then went on to win the fight. After the taunting of his opponent with a hadouken, Campbell unleashed a barrage of strikes against Boyle. After a combo that sent Boyle to the ground, Campbell went in for the kill with left and right hammers, using a pound-on-the-ground tactic while avoiding the mount and not even bothering to attempt any sort of submission hold.
The move has been used often as a way to pepper opponents from across the screen, or finish off a fight in fancy fashion, sort of like how the super version of the hadouken is used below, courtesy of YouTuber Sho Simba.
That's just part of the goodness that makes up for the Street Fighter play mechanics. It's not surprising that a real-life fighter would take an opportunity to taunt an opponent using one of the series' most iconic moves. We briefly got to see what a live-action version of Ryu would look like during the promotion of Street Fighter X Tekken.
As Bleacher Report points out, no actual fireballs exited the hand of Campbell, opposite of Ryu.
The attacks from Campbell looked like something right out of EA Sports UFC... just minus the hilarious glitches that come along with it.
Sporting News wasn't too impressed, writing...
If watching Campbell taunt his opponent with a hadouken has you in the mood for some Street Fighter, you're in luck because Capcom has a new fighting game on the way for PlayStation 4 owners. Street Fighter V has been slowly threading its way into the media spotlight, and we're likely to learn more about it at EVO 2015, later this year.
The big difference between Campbell and the hadoukens in Street Fighter V is that in the latter's case the fireballs actually exit from the fighters' hands, where-as in the case of real-life cage fighting... well, pugilists have to rely on hands and feet to get the job done... no flying projectiles to the rescue.
If you can't wait for Street Fighter V, you can still get your fill with Ultra Street Fighter IV, which is available right now for home consoles and PC.
Your Daily Blend of Entertainment News
Staff Writer at CinemaBlend.