EVO 2015 Game Lineup Announced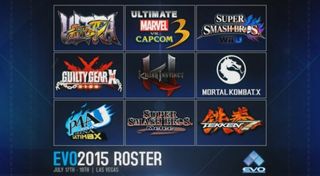 If you're a diehard member of the fighting game community and have been keeping track of what's new, what's hip and what's big in the FGC scene, then you're probably excited about this year's line-up of games scheduled to make an appearance at this year's Evolution 2015 tournament.
Shoryuken let the news drop following a Twitch live-stream where the official line-up of games that will be participating in this year's mega-event was unveiled. So what games will be present during the e-sports event this July? Well, check them out for yourself below.
Guilty Gear XRD -SIGN-
Killer Instinct
Mortal Kombat X
Persona 4 Arena Ultimax
Super Smash Bros. for Wii U
Super Smash Bros. Melee
Tekken 7
Ultra Street Fighter IV
Ultimate Marvel vs. Capcom 3
You might notice that there are some interesting games on the list this year and some notable missing entries. For instance, no more King of Fighters XIII... a real bummer for SNK fanboys. Maybe when they make a new King of Fighters we'll see it make a return to the EVO arena? Yes? Hopefully.
Killer Instinct is back for another year of fast-paced fisticuffs on the Xbox One. Last year's fights were quite intense, and the game proved that it was a worthwhile entry in the Evolution line-up. We'll see if the game maintains the attention of the audience this year in the same way that it did in 2014.
Now the real big news coming out of the announcement are the twin Smash Bros games making an appearance. One game is a fan-favorite returner while the other is a new challenger stepping onto the field. Seriously, I honestly cannot wait to see what Super Smash Bros. 4 looks like in the EVO scene. There are so many new characters that a lot of people want to see on the grand stage and how well they perform in tournaments at the grandest FGC stage of them all. Will Little Mac be able to hang with the ledge-guarders? Will anyone be able to catch Sonic? Will Mega Man clean-up with his unorthodox fighting style? Will Zero Suit Samus go in for a sweep? Will Jiggly Puff make the finals again? I guess we'll find out this July.
Additionally, Tekken 7 will be making its first FGC appearance at EVO 2015, but not in the way that you think. While producer Katsuhiro Harada has been slowly rolling out new characters and info across his Twitter feed, they're still a long ways away from release. Hence, Tekken 7 at this year's EVO will be held via arcade machines. Now that's going back old school. It will be exciting to see who shows up for Tekken 7 and how that all works out.
I'm sure we'll also get to see some new footage and features of Street Fighter V for PS4 and PC. We had a glimpse of it at Capcom's event late last year, but it'll be nice to see it in action and get a glimpse at how far along Capcom is with the new-gen fighter.
This year's Evolution 2015 tournament will take place at the Paris Hotel and Casino in Las Vegas, Nevada. You can either attend in person or watch it live via Twitch a month off the heels of E3 between July 17th and July 19th.
Staff Writer at CinemaBlend.
Your Daily Blend of Entertainment News
Thank you for signing up to CinemaBlend. You will receive a verification email shortly.
There was a problem. Please refresh the page and try again.