Mario Kart 8 Sells 2 Million Copies; Iwata Gets Re-Elected As Nintendo's President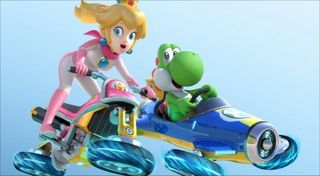 There have been strong calls for the resignation or at least demotion of Nintendo's current president, Satoru Iwata. The company's stock portfolio has been on a slight decline and the company's overall operating revenue has been down for the past two years, all in no small part due to the Wii U's poor start in the first half of 2013. However, things are turning around and both the software and hardware at Nintendo are seeing a huge uptick since the release of Mario Kart 8, which ranks as one of the top 5 games of 2014 so far.
Nintendo Everything covered some interesting notes from the recent 74th Annual General Meeting of Shareholders, where key details about sales, performance and other business-oriented ventures were discussed. The one thing that stood out the most was that Nintendo has apparently sold 2 million copies of Mario Kart 8 so far.
The number seems about right given that it was at the end of May we found out that the game had sold 1.2 million copies over its opening weekend. After that it was just a matter of time before the franchise would check off a list of accomplishments in the sales department. I doubt 2 million is ceiling for the game either, as it's constantly propelling the Wii U back into the spotlight and highlighting the console as a must-own device.
In fact, the Wii U has gone back to take over the weekly sales charts over in Japan and has proved to be a viable competitor in some of the weekly charts in the North American territories.
The real challenge will be how well Nintendo handles July and August, also known as the months that suffer a software drought. Will Mario Kart 8 be able to maintain enough sales momentum to get Nintendo into September where Hyrule Warriors will launch? I guess we'll find out.
The news about Mario Kart 8 resonated well enough with the board that they actually felt compelled to re-elect Satoru Iwata as the company's president, as noted by IGN. There had been a lot of calls from within various factions of the gaming industry to relieve Iwata of his position as president, even though he was responsible for many of the company's successes, including their recent dominance in the handheld sector and introducing the casual market to the Wii (for better or for worse).
Having him resign because the company lost money for two quarters in 2013 due to really poor sales would seem very shortsighted and unreasonably greedy.
Some members of the gaming industry wanted Nintendo to become third-party software developers for the other companies or export their titles to smartphones, however Nintendo is far too proud a company to sell off their lucrative brands in such a way. They would also run the risk of diluting their brand power in the same way that Sega has lost a lot of its brand worth from notable games like Virtua Fighter and Sonic due to all the over-saturation and poor market utilization.
While May and June have and will be big months for Nintendo on the sales front, it's more interesting to see where they'll stand for July and August.
Staff Writer at CinemaBlend.