Mass Effect 3 Multiplayer DLC Characters Revealed?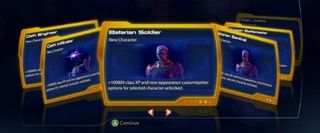 It appears that BioWare will be releasing post-launch DLC for Mass Effect 3's co-op mode. An alleged image of several new multiplayer characters hit the web today. Looks like you'll be able to try out some new race/class combos.
The image shows Batarian Soldier, Batarian Sentinel, Krogan Battlemaster, Geth Infiltrator, Geth Engineer and Asari Justicar characters. Seems plausible enough. A couple of those races already appear in the co-op, albeit with different classes. Geth and Batarian aren't available in co-op currently but those races appear in the campaign so BioWare already has the art assets.
"Just downloaded a test DLC on the Developer server for Mass Effect 3," says the tipster from Reddit. "It's an unknown pack you buy from the store like any other (Veteran, Spectre, etc.). And what did this mysterious DLC do? Unlocked everything."
In ME3's co-op, four players must survive against waves of enemies. It's sort of like Gears of War's "Horde Mode" except with character classes and randomized objectives. I wasn't too impressed with the co-op but maybe someone will appreciate these new characters. In my opinion, though, new maps or game modes would be a better use of resources.
If these new characters are real, they'd be the first multiplayer DLC for the game. The only other DLC released for the game, "From Ashes," adds to the single-player campaign.
Your Daily Blend of Entertainment News
Staff Writer at CinemaBlend.