Mass Effect Trilogy Gets PS3 Release Date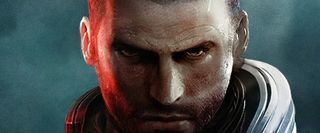 PS3 gamers will be able to get their hands on the original Mass Effect by the end of the year. BioWare revealed today that the Mass Effect Trilogy will be available on that console in early December.
The Mass Effect Trilogy is a $59.99 bundle of all three games in the RPG series. It also includes downloadable content from each of the games, though the specific situation varies from platform to platform. BioWare announced the DLC details for Xbox 360 and PC in September. Here's what they said about the PS3 edition today:
The Xbox 360 and PC Trilogy will arrive on November 6th in North America and on the 9th in Europe. PS3 gamers have to wait until December 4th and 7th in those territories. The extra wait for the PS3 is due to the fact that BioWare never released the original Mass Effect on the console before. BioWare managed to create the PS3 version in less than a year with the help of an outside developer, Edge of Reality.
"We worked around the clock to ensure the game performed at, or better-than, the performance metrics that we had from the Xbox 360. And they did it. Mass Effect on the PS3 runs pretty damn well," said Trilogy external producer Ryan Warden on the BioWare Blog.
PS3 owners will also be able to buy ME1 as a standalone product on the same day that the Trilogy arrives. It'll cost $14.99 to grab the game through PSN.
The release of Trilogy will be accompanied by a global celebration called "N7 Day." This event, scheduled for November 7th, will be a virtual and real-world commemoration of the ME series.
Staff Writer at CinemaBlend.
Your Daily Blend of Entertainment News
Thank you for signing up to CinemaBlend. You will receive a verification email shortly.
There was a problem. Please refresh the page and try again.