Metal Gear Solid 5: Ground Zeroes PC Vs PS4 Graphics Comparison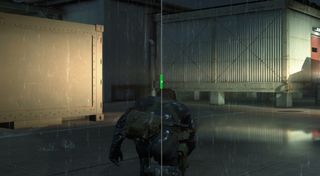 Konami is prepping for the release of Metal Gear Solid V: Ground Zeroes on PC this December, and in doing so they have let loose some more details on the game courtesy of Nvidia and the U.K., GeForce team.
Over on the official Nvidia GeForce website there are detailed screenshot comparisons between the PC and PS4 versions of Metal Gear Solid V: Ground Zeroes.
The comparisons take place between two screenshots that show how the game runs on the PS4 and what you'll see with the highest graphics settings turned up real nice and high on your PC. Check them out below.
The game, on PC, will run at a clean and pristine 60 frames per second; there will be increased deferred lighting, higher resolution shadows, more directional shadows, post processing effects and resolutions that reach up to 4K at 3840 x 2160.
The interactive comparisons above highlight the differences, as you can see that on the PC side there are environmental world reflections, like in the puddle of water on the ground, as well as additional light sources (as mentioned on the list of features on the website), which adds to the game's atmosphere and realism.
The gap between the PC and PS4 version of Ground Zeroes isn't particularly girthy. It's more like the cosmetic changes in lighting and post-processing. As you can see in the side-by-side comparisons, there's not a whole lot of gap-mouthed changes that you're getting on PC.
Now what would have been interesting is a 4K screenshot compared to a 1080p screenshot. I know a lot of people constantly state that resolution doesn't matter all that much, bu you really can see a pretty big difference in the quality of the assets and geometry when you have a resolution high enough to accent those features.
If you're wondering what kind of rig you'll need to hit the same level of graphical fidelity as showcased in those screenshots above, take note that on minimum a quadcore processor is standard across the board. You'll need an i5 at 2.75ghz and either 4GB for the minimum requirements or 8GB for the recommended requirements, when it comes to RAM. A 64-bit OS is standard-fare and a GTX 650 as an entry-level to playing the game, with a GTX 760 for the recommended specs.
Metal Gear Solid V: Ground Zeroes is due for release on PC ahead of the launch of The Phantom Pain. You can grab Ground Zeroes starting December 18th on Steam. I imagine it's going to be one of those games a lot of PC gamers pick up during the Steam winter sale. Of course, most PC gamers are prepping to save up their money to pick up games during the Steam fall sale.
Staff Writer at CinemaBlend.
Your Daily Blend of Entertainment News
Thank you for signing up to CinemaBlend. You will receive a verification email shortly.
There was a problem. Please refresh the page and try again.