Steam Autumn Sale 2014 Dates Leaked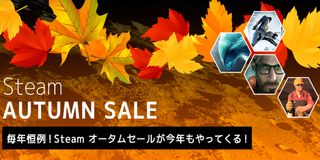 It seems that the 2014 Steam Autumn Sale will go live later this week. PayPal has revealed the exact dates for the discount-laden event before Valve could make an official announcement.
"Save on thousands of games during Steam's Fall Sale starting November 26," says the PayPal email sent to VG247 and others. "Now's the time to stock up on Steam Wallet Codes from the PayPal Digital Gift Store, so when the sale starts, you're ready to buy games for yourself, friends and family. And remember by choosing PayPal - the simpler safer way to shop for digital games - you choose cheer."
You'll only have a long weekend to take advantage of the deals. The email adds that the Steam Autumn Sale will last until Monday, December 1st. This length is consistent with previous Autumn Sales run by the store. If you're going out of town for Thanksgiving, you might want to grab the mobile app for Steam so you can make your purchases remotely.
The date range lines up with an email sent to Steam users in Japan (via NeoGAF). The Japanese email said the sale would start at 3AM on November 27th in that country and run until 3AM on December 3rd - which is 10 am Pacific Time on November 26th and December 2nd.
If you decide to buy a few games during the event, expect some downtime or lag. Steam is overwhelmed with traffic during each sale, especially during the first day. Last Thanksgiving weekend, the store had 7 million concurrent users at one point. If you're having problems, wait until an off-peak time. The busiest hours are usually around noon PST, as that's when both European and North American customers are active.
Each Steam sale follows about the the same format. New sets of discounts on PC/Mac/Linux games will be offered each day. Steam will also present Flash Sales that last only 8 hours. A selection of games, usually from certain publishers, are also available for cheap throughout the entire event.
This is at least the second Steam event this year that's been leaked by a third-party site. The dates for the Summer Sale were unexpectedly revealed by Paysafecard a week early. Valve evidently shares the dates for these events with their partners. It spoils their surprise when these partners then blab about it but I guess everyone knew a Thanksgiving weekend sale was coming anyway.
Staff Writer at CinemaBlend.
Your Daily Blend of Entertainment News
Thank you for signing up to CinemaBlend. You will receive a verification email shortly.
There was a problem. Please refresh the page and try again.