Metal Gear Solid 5 Has An Online Mode That's Much Like An MMO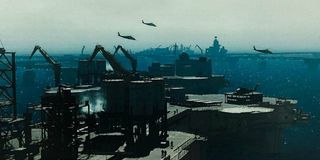 Metal Gear Solid V: The Phantom Pain is going to be a very different beast in several ways, but this might be the biggest.
The latest gameplay demo out of Gamescom 2015 is a massive 30-minute adventure that details what could be taken as an MMO-style move for the franchise that's going to attract players who may not normally be interested in this sort of thing. It's a huge chunk of gameplay to take in, and it's a palate-cleanser from the trailer we witnessed yesterday.
The focus of the video is on Mother Base, a base in the game that, like we've seen in Fallout 4's upcoming base customization mechanics, you can upgrade to your liking to support you on field missions and other important excursions.
At Mother Base, you can put research money into bettering your equipment, create support teams to help you in the field (air strikes and supplies will come in handy), complete training missions, campaign events, and even take showers. Because showers are important if you don't want to run around the entire game with blood splattered all over you. As Hideo Kojima tweeted, if you run around long enough with blood all over you, you'll still keep it on you until you shower. Talk about sticking to realism!
But Mother Base isn't all you'll have to worry about in Metal Gear Solid V.You can spend a lot of your time there, sure, but you can also start creating units called Forward Operating Bases (FOBs) after you've earned enough expansions and upgrades. These FOBs wil be a major part of what Konami is actively referring to as an MMO mode for the game -- completely separate from that of Metal Gear Online.
The Forward Operating Bases can be created quickly, and you can position them for what essentially amounts to battle between you and other players who come across them. You can upgrade security resources at your bases, and keep others out, much like you're playing an in-game tower defense game. The game-within-a-game meta is interesting, and unlike most of what we've seen before in Metal Gear Solid games (aside from Metal Gear Solid: Peace Walker), so it's absolutely worth taking a look at.
Others will be able to swoop in and attack your bases, however. You'll have to head back in and fend off attackers, which you can even team up with friends to do. All of this is completely optional, and it could likely be where the supposed microtransactions we've been hearing so much about could be coming from.
We'll be able to see more about Mother Base and the FOBs themselves when the game launches on PC, PlayStation 3, PS4, Xbox 360, and Xbox One on September 1.
Your Daily Blend of Entertainment News