Metro: Last Light Headlines This Week's PSN Update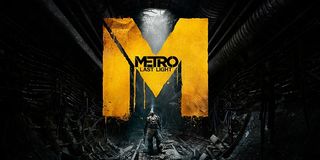 Following last week's decidedly light lineup of new content on the PlayStation Network, this week's roster features a pretty hefty selection of titles from a wide variety of genres, including retail game Metro: Last Light, the official launch of Dust 514, a few PSN titles and the PlayStation 2 Classic, Manhunt.
In the year 2033, mankind is forced to live underground following a horrible nuclear war that ravaged the vast majority of the world. The survivors patch together what can barely be called an existence, creating makeshift societies and fighting against deadly creatures that were created by the nuclear fallout. Follow-up to the 2010 first-person shooter, Metro: Last Light will be available day one on the PlayStation Network, as well as at retail on Blu-ray.
If you can't get enough shooting, then the EVE cross-over MMO shooter, Dust 514 may be just what the doctor order. A free to play game, this boots-on-the-ground fragfest ties directly into the PC MMO EVE with players between the two games being able to lend each other a hand and effect each other's war economy.
Jacob Jones and the Bigfoot Mystery is also headed to the PlayStation Vita this week, only available through the PlayStation Network. A "puzzle adventure" game, Bigfoot Mystery is an episodic offering that takes players on a wild journey into one boy's very strange visit to summer camp.
The latest Rune Factory game for the PlayStation 3Tides of Destiny, will also bring its mix of RPG questing and farming to PSN this week, as well as the standalone version of Star Wars Pinball from Zen studios. Finally, there's Tiny Token Empires, a lighthearted approach to the grow and conquer strategy genre full of fun characters and hostile takeovers.
This week's releases will be further rounded out with a handful of demos, as well as the PS2 Classic, Manhunt, the violent action game from Rockstar featuring one man's quest to survive the night in a city overrun with killer gangs.
Look for all of that, along with the regular offering of trailers and DLC, to hit the PlayStation Network tomorrow afternoon. For more details, visit the PlayStation Blog.
Staff Writer for CinemaBlend.
Your Daily Blend of Entertainment News
Thank you for signing up to CinemaBlend. You will receive a verification email shortly.
There was a problem. Please refresh the page and try again.