Mighty No. 9 Delayed To 2016, Report Says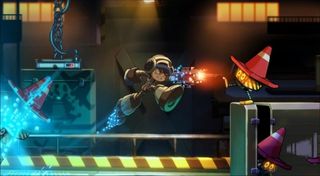 Comcept USA's Mighty No. 9 has been delayed, according to a new report. Deep Silver nor Comcept USA have confirmed nor denied the reports stating that Mighty No. 9 has now slipped into 2016 as opposed to fulfilling its September 15th, 2015 release.
According to Game Informer, the Kickstarted project has been pushed out of its mid-September release and into an undisclosed 2016 window. They further note that GameStop mentioned that these kind of placeholder delays are usually initiated by the publisher, but they're unsure if this was a directive passed down by Comcept USA or Deep Silver.
Mighty No. 9 was originally supposed to release in April of this year, but after publisher Deep Silver stepped into the picture the game was delayed all the way to September. I'm not sure exactly what the hold up is now. The game appeared to be coming along quite nicely based on previous demo playthroughs and footage from trade-shows. Pushing the Kickstarter darling back by a whole year isn't bad if the game needs more polish or time to evolve, but the lack of communication from Comcept USA is one of the bigger problems given that unlike traditional development partners they're not dealing with investors worried about quarterly results and ROI. Instead, Comcept's investors are the gamers themselves, and all they want is a game that's delivered... as promised.
Game Informer speculates that Comcept's reticence on the matter may be due in part to the fact that the Red Ash Kickstarter is still wrapping up and they don't want to spoil the final few days of funding by announcing a delay for a game that was supposed to have been released a few months ago... and another Kickstarter game, no less.
The crowd-funding initiative can be a good thing and it has proven to introduce gamers to all new IP as well as re-introduce gamers to old IP brought back to life, such as inXile Entertainment's Wasteland 2, Obsidian's Pillars of Eternity, or Harebrained Schemes' Shadowrun Returns.
However, for a lot of the massive Kickstarter successes there are also games that fail to live up to their standards or fail to deliver on what was promised, such as Clang or Double Fine's Broken Age, which didn't quite turn out quite the way some gamers expected.
Mighty No. 9 at least appears to be playable and holds very close to what was pitched. The major problem is that there hasn't been a whole lot of clarity on the project since Deep Silver stepped into the picture. A similar problem occurred with Project CARS after Bandai Namco Entertainment came in as a publisher for the game, which ended badly for Nintendo fans when the game was cancelled for the Wii U.
In the case of Mighty No. 9, coming off a kerfuffle involving a community manager, a few delays and the silence regarding the current state of the game may lead some gamers to become disenchanted with Comcept. Things look especially egregious since the company started a Kickstarter campaign for Red Ash before actually delivering their first Kickstarter project.
Staff Writer at CinemaBlend.
Your Daily Blend of Entertainment News
Thank you for signing up to CinemaBlend. You will receive a verification email shortly.
There was a problem. Please refresh the page and try again.