Minecon 2015 Tickets Go On Sale Very Soon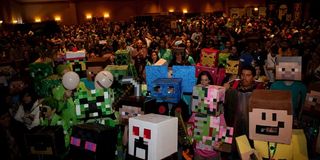 For those of you planning on attending Minecon this year, you might want to keep your calendars open and your wallet at the ready, as tickets will be going on sale very, very soon.
Mojang made the announcement official this week over on their blog, letting folks know that Minecon reservations are almost ready to be pinned down. This year's convention celebrating all things Minecraft will be hosted out of London from July 4-5 so, assuming you're reading this in the good ole' U.S. of A, what better way to celebrate your nation's freedom than to travel to another country and geek out over a game with like-minded individuals from all over the world?
For those of you planning on attending, you'll want to keep this particular page saved in your favorites, because that's where you'll be able to make a purchase. And, according to the on-site countdown, that'll happen in exactly six days from now.
According to the site, Minecon tickets will be sold in two batches of 5,000. In other words, you'll want to act very, very quickly if you hope to attend the show, as space is limited. If you need a more concrete number to plug into our calendar's reminder, batch one will go on sale next Friday, March 27, at 6 p.m. GMT. Batch two, on the other hand, will hit the virtual market at 12 p.m. GMT on Saturday, March 28. If you miss out on those times, you'll likely miss out on the whole shebang.
It's been truly amazing to watch Minecraft evolve over the years. From it, a beloved development studio has formed, its creator has gone on to earn quite a bit of fame and notoriety (and then bought a house Jay-Z wanted to buy), and the game has even gained the attention of Microsoft, leading to a purchase of the studio late last year.
All of this from a pretty simple premise: Give the players the tools they want to build, create and simply have fun. People have gone on crazy adventures within the game world, built unbelievable cityscapes and more. There's never been a game like it, and now its influences can be seen in dozens of other titles.
As for Minecon, tickets will set you back 129 Pounds each and you can buy them in groups of up to six. You'll need to name each ticket-holder at the time of purchase, however, so don't expect to be able to buy a bunch of tickets and then sell them for twice as much online. After you buy tickets, you'll be led to a page that will let you book a room from a special block of hotels. You need to be 15 or older to attend the event along, and kids three and under can get in for free.
I think that about covers the basics. So, tell me: Is anyone planning on going to Minecon this year?
Your Daily Blend of Entertainment News
Staff Writer for CinemaBlend.
Your Daily Blend of Entertainment News
Thank you for signing up to CinemaBlend. You will receive a verification email shortly.
There was a problem. Please refresh the page and try again.