Minecraft Streamer Buys $4.5 Million House, Makes You Question Your Choice Of Career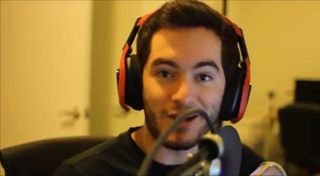 YouTube is continuing to explode as the new medium in which nearly everyone the world around engages in and consumes on a daily basis. It houses a platform for all sorts of creative minds and uniquely distributed content. One of those content creators is YouTuber CaptainSparklez and he just bought a house for $4.5 million.
Variety is reporting that CaptainSparklez, real name Jordan Maron, recently purchased a house in Los Angeles, California above the Sunset Strip for $4.5 million. Maron purchased the 4,100 square foot mansion from the Nicholas Property Group and he was represented by Joe Babajian from Rodeo Realty.
The house is a multi-story, contemporary pad with with a lot of windows and sliding doors. It looks like something from The Sims 4, almost. It has an infinity pool and a lot of perched balconies so it's possible to always get a view of the surrounding area overlooking the city.
According to Variety this story was newsworthy because Maron is only 23 years old. He's been on YouTube as CaptainSparklez for only five years and has already amassed a substantial amount of wealth. He has more than 8.8 million subscribers and according to Variety he has accrued more than a billion views on his channel.
One of Maron's most popular series is his original music videos based on popular songs. Even if you aren't a fan of his you may have come across them just by browsing through YouTube's content. For instance one of his most popular videos is the "Fallen Kingdom", which is an animated parody of Coldplay's Viva la Vida done in Minecraft. You can check it out below.
The video has amassed nearly 95 million views as of the writing of this article.
Jordan "CaptainSparklez" Moran ranks amongst some of the most viewed content creators on YouTube, behind other heavyweights like Markiplier and PewDiePie – the last of which actually made $7 million in profit in 2014. So it's not surprising that just a little bit down the totem pole someone like Moran would be able to afford a house in L.A.
Majority of his top content on his channel centers around Minecraft, with his most viewed content being the Minecraft music videos. He does play other games, though, including Garry's Mod indie games like BeamNG and Left 4 Dead. Of course, the bread and butter of his content is the blocky, emergent building game.
Many of his videos average around a million or more views, so as long as he's regularly pumping out content he's making hundreds of thousands of dollars in no time flat. His video output is about two or three a day, so he has a steady flow of content.
Nevertheless, being a YouTuber is no easy gig. You need charisma, you need a powerful rig, some high-end recording equipment and a whole lot of patience dealing with editing, logos, links, pacing and uploading said content. That's not to mention all the copyright hurdles many content creators have to overcome.
In the case of Moran, it has all paid off now that he's able to live the good life in California with his new $4.5 million dollar home.
Staff Writer at CinemaBlend.
Your Daily Blend of Entertainment News
Thank you for signing up to CinemaBlend. You will receive a verification email shortly.
There was a problem. Please refresh the page and try again.