Minecraft Just Crossed A Major Sales Milestone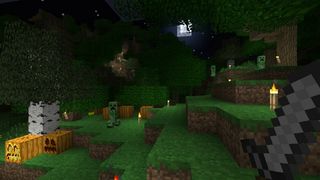 If you thought Minecraft was a "good" game and "pretty" successful, you need to take a second look at your adjectives because Minecraft has made so much money to date, it's now being deemed one of the most successful video games ever created.
Mojang announced today that Minecraft has sold over 100 million copies across all platforms. That's a lot of sales for just one game. Engadget reports that Minecraft has sold at least 53,000 copies a day around the world and 40 million people a month continue to play the game, so it's not like it's a jolt from when the game first released. The success is still generating and keeps growing.
Tetris is one of the other games who have topped 100 million sales. But how did Minecraft sell so many copies? What makes games like Minecraft special is just how many limitless opportunities there are with literally no boundaries as to what your imagination can create. And with that amount of control and freedom, people can find themselves lost inside the game for hours.
It's kind of like the freedom in The Sims 4. I remember spending two hours just to create my Sims family, and then another couple hours building their house and lot. Because we have access to that creativity, to build and create, we lose ourselves in it. Having that kind of control over a virtual world is so addicting. I'd even argue that some creations in Minecraft can be deemed art, because it is a creation, something someone took a lot of time and planning to put together and bring to life.
Another reason Minecraft does so well is it doesn't just appeal to kids. It appeals to everyone. In college when I first played the Alpha version of Minecraft, me and all my nerdy computer-obsessed friends played it together, and it was only those kinds of kids who knew about it at first. But the way the gameplay works and the level of creativity inside the game has appealed to so many others, and I think that's been a big factor in its success. A game that greatly appeals to such a wide audience has a better chance of being overly successful. Even The Sims might not be something younger kids enjoy all the time, but everyone loves to create.
If you'd like to download Minecraft for your computer, you can visit Minecraft's official website. It is available to download for Mac, PC or Linux. You can also download versions for your phone and console. While Minecraft has proven to be overwhelmingly successful, even seven years after initially releasing, I'll be interested to see what comes next.
Your Daily Blend of Entertainment News
Thank you for signing up to CinemaBlend. You will receive a verification email shortly.
There was a problem. Please refresh the page and try again.