Minecraft Launches On Xbox One; Here's How To Transfer Worlds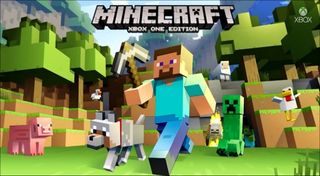 Minecraft for the Xbox One has officially launched. The game is currently available right now for Microsoft's third-generation home console for $19.99. On the bright side, if you already own the game on the Xbox 360 you'll be able to get the game for only $4.99.
If you already have Minecraft on the Xbox 360 you can easily transfer over the data by attaching the game to the profile you use on the Xbox One. When you go to purchase the game from the digital store you'll be able to get the game for only $4.99.
In addition to this, if you already purchased add-ons for the Xbox 360 version of Minecraft and you own the Xbox One version, too, you can get the add-ons for free by heading to the store and selecting "Get It Free" from the store page. Remember to have the game attached to your Xbox Live profile before attempting to get the add-ons.
As the video above details, you can also transfer over your worlds, just be sure to do so one at a time. Simply open up the Xbox 360 version of the game and then head to the "Play Game" option. Select the save location and then upload the save by pressing the 'Y' button.
From there you're going to want to head back to the Xbox One version of the game, boot it up and head to "Play Game". From the selection menu you're going to press the 'X' button to download the map from the cloud and into your Xbox One version of Minecraft.
That's it. It's that simple. You'll be able to have fun playing your old Xbox 360 worlds in your new Xbox One game.
Speaking of the game, Microsoft briefly detailed what gamers can expect jumping into the XB1's port of the highly popular title, saying...
The game itself doesn't really have much of a purpose outside of surviving and building, but the 3D 8-bit voxel aesthetic and simplistic gameplay mechanics have made Minecraft a highly popular title amongst kids and young gamers.
The title continues to evolve with all sorts of new add-ons, skins and construction capabilities. Some of the things people have made in the game are completely amazing and now those of you who own an Xbox One will be able to get in on the action.
You can pick up Minecraft right now from the Xbox One store. For more info feel free to visit the official website.
Your Daily Blend of Entertainment News
Staff Writer at CinemaBlend.
Your Daily Blend of Entertainment News
Thank you for signing up to CinemaBlend. You will receive a verification email shortly.
There was a problem. Please refresh the page and try again.