Left 4 Dead's Characters Return In A Different Game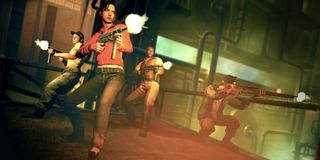 Thought you'd seen the last of the Survivors of Left 4 Dead fame? Think again! Game Informer reports that the familiar characters from Valve's multiplayer shooter are now appearing in a different game.
Rebellion's Zombie Army Trilogy features Zoey, Francis, Bill, Lewis, Nick, Ellis, Coach, and Rochelle gunning for zombies in the PC title, back in action just the way you remember them. What's more, they're available with a free update that allows you to play as the eight survivors.
The trailer shows off some of what you can expect from the update, which is essentially how the characters behaved in Left 4 Dead and Left 4 Dead 2. This time the zombies have a Nazi skin and whatnot, and things are getting a little more grizzly than usual. Confused on how this event transpired, though? There's a special comic you can download that should help explain what exactly is going on.
You may not be familiar with Zombie Army Trilogy either. I certainly wasn't. It was released in march of this year from Rebellion Developments and includes a special Nazi Zombie Army game, which actually came out in 2013 as a standalone bit of downloadable content for Sniper Elite V2. Don't expect a game that's the same caliber as Left 4 Dead or its sequel, but after having given it a try, I can attest it's fun either solo or with friends as you tackle Berlin and the undead army of the Third Reich.
You can gather your friends to snipe at the Nazi undead in one installment and it's a knock-down, drag-out brawl from the start to the end. You just have to focus on annihilating as many zombies as you possibly can as they amble toward you, so cooperative planning isn't really something you have to worry about so much. No friends? No problem. You'll still have plenty of zombie goodness to take care of whether you play alone or play with online multiplayer partners.
Hey, I never said it wasn't ridiculous. Give it a look here and if you like it, you can pick it up on Steam to enjoy kill cams, decadent sniper shots, and the Left 4 Dead crew back together again.
It can be a very repetitive game since there's a stream of zombies coming through at any given time and that can be frustrating, but it's worth a look if you need something to tide you over for the weekend, and the upcoming deluge of fall games, like Metal Gear Solid V: The Phantom Pain or one of the several other releases being pushed out in the interim. It's going to be a busy season and a half.
Your Daily Blend of Entertainment News
Thank you for signing up to CinemaBlend. You will receive a verification email shortly.
There was a problem. Please refresh the page and try again.