Modern Warfare 3 Hardened Edition Contents Confirmed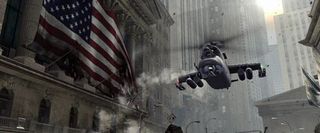 Over the weekend, a leaked advertisement revealed the items included in the Call of Duty: Modern Warfare 3 Hardened Edition. In a break from tradition, this Hardened Edition will cost $99.99 instead of the usual $79.99.
Amazon (opens in new tab) currently has the Hardened Edition listed for the PS3 and Xbox 360. Here's what you're getting for your hundred bucks (via Wired):
Call of Duty: Modern Warfare 3 game featuring unique disc art.
One year of membership in Call of Duty Elite, which includes future MW3 downloadable content
"Founder status" on Elite with exclusive in-game emblem, player card, camouflage, clan XP boost and other exclusive benefits.
SteelBook case.
Exclusive PlayStation Network "Animated Timeline Theme."
"Special Ops Juggernaut" Xbox Live Outfit
Limited edition, collectible field journal chronicling the entire saga with 100+ pages of authentic military sketches, diagrams and written entries
In recent years, Call of Duty games received two collector's editions: a slightly expensive Hardened Edition and a really pricey Prestige Edition. The Prestige Edition would typically come with some outlandish extra like a remote control car with a camera or night vision goggles. However, there's no Prestige Edition listed at any retailer currently. It's possible that the Hardened Edition will be the sole CE for the gae.
The Hardened Edition of MW3 will arrive alongside the standard version on November 8th.
Staff Writer at CinemaBlend.
Your Daily Blend of Entertainment News
Thank you for signing up to CinemaBlend. You will receive a verification email shortly.
There was a problem. Please refresh the page and try again.