Monster Hunter Frontier G Coming To America, PS Vita Version In The Works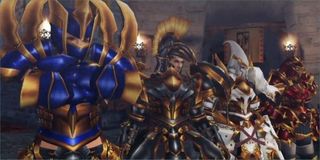 Capcom has recently confirmed that the MMO version of Monster Hunter Frontier will be making its way to the west, in both America and Europe at some undisclosed time for the Wii U, Xbox 360, PC and PS3. As an added bonus, there are now talks about a PS Vita version being in the works.
As spotted on GamerSyndrome, Capcom producer Yoshinori Ono made some startling comments in an interview about the upcoming port of Monster Hunter Frontier G for gaming platforms in the west, stating...
That's pretty slick. I'm curious to know how well the game will do on the market outside of Japan and if the game will be as popular with Westerners as it is with the Japanese?
The game made some waves in the media circles last year when it was announced that the game would be arriving for the Wii U and PS3 in late December in Japan, as reported by Nintendo Everything.
Capcom has lately been in a bit of a money scrounge thanks to Capcom being Capcom. However, after their roadmap didn't quite pan out the way they wanted, it looks like more multiplatform titles are in tow along with more regional releases in American and European territories.
The big news, though, is that Capcom is sticking it out by supporting the PS Vita, even though the poor thing is about as wanted and in-demand as blind guide dogs at an optically impaired rehabilitation center.
Sadly, Ono didn't roll out any details on what the PS Vita version of the game would entail, but simply that they were exploring that route. I'm more enticed by the idea that a North American port of Monster Hunter Frontier G is inbound for the Wii U. That alone opens up a lot of doors for strong third-party support for the Wii U that it so desperately needs. Even with Nintendo hunkering down and getting serious about software support for the system, they'll still need third-party support one way or another.
Anyway, at least Vita owners and Wii U owners can look forward to more games to roll out on the systems that need the most (and best) software at the moment. Too bad Capcom didn't put out a definitive launch date for the game.
Your Daily Blend of Entertainment News
Staff Writer at CinemaBlend.