Monster Hunter Online Closed-Beta Invite Info Arriving During E3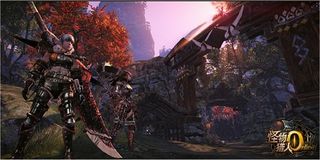 Good news, folks: Monster Hunter Online will be heading into the first phase of closed beta testing and they are sending out information regarding invites during E3 next week. It's not that it has anything to do with E3, it's just that Tencent decided the best time to start initial invitation and unleashing info should start next week...during E3. Okay.
As noted on the official Monster Hunter Online website...
That "range of explanations" includes new information on the bosses players will face off against as well as some of the gameplay mechanics that players will be able to manipulate throughout the play experience. The site details a few of the attributes and traits associated with some of the more well known monsters that roam the land, as well as offering up brand new screenshots of the game in the process. They also discuss how the game aims to veer away from the traditional MMO grind in order to appeal to gamers in the same way that the console-based games do. Tencent really know show to build anticipation, eh?
Gamers the world around have been highly excited about Capcom, Crytek and Tencent's MMO. While it was mentioned that an international release was inbound a lot of gamers have been curious to know "when"? While any official dates haven't been set in stone, at least we're getting closer to an actual CBT, right?
Since Tencent will be testing in native China before anywhere else, you can expect localization to start after the game has been finalized in its native release region. This means that you probably won't be seeing a North American release in open beta until, maybe, next year. But it all depends on the demand for the game and how quickly the team finishes up the core design.
We'll let you know when the official closed beta gets underway.
Staff Writer at CinemaBlend.
Your Daily Blend of Entertainment News
Thank you for signing up to CinemaBlend. You will receive a verification email shortly.
There was a problem. Please refresh the page and try again.