Fatalities Are Easier In Mortal Kombat X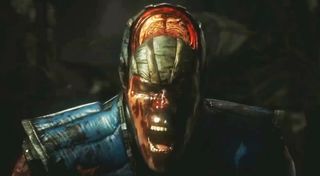 With Mortal Kombat X nearing release, details have been trickling out of NetherRealm studios. The most recent tidbit is an "Easy Fatality" mode, which allows you to pull off Fatalities without remembering those complicated button maneuvers.
GameSpot spotted the information during one of the latest live-streams that NetherRealm has been holding to reveal new information and details about the game.
Community specialist Tyler Lansdown commented on the difficulty of Fatalities and how NetherRealm is addressing it. The developer is allowing users to pull off Mortal Kombat X Fatalities when an emblem shows up on screen.
Here's what Lansdown said:
That's... actually kind of cool.
Earning emblems that unlock easy Fatalities could help encourage newbies to keep playing and learning as they go.
According to Lansdown, you can unlock the emblems by doing specific things or completing various tasks in the game:
I think that's a solid incentive for players. Heck, even expert players might find themselves wanting to earn a few emblems to cut down on the complex button presses that come with Fatalities.
Many of the Fatalities in the game are fairly brutal. I do wonder if they'll be easy to pull off like in Mortal Kombat: Armageddon or ridiculously complex like in Mortal Kombat II? Right now it's hard to tell.
The GameSpot article also points out that Goro will be available in a DLC pack for anyone who doesn't pre-order him. These days, any kind of "exclusive" pre-order DLC is usually paid DLC following its release.
Mortal Kombat X is a highly anticipated title. Many of the returning characters and new characters look very impressive. Erron Black definitely turned heads with his amazing gunslinging display, something that hasn't been featured in a fighting game in that way since... well, since ever.
Mortal Kombat X sports 60fps gameplay and is scheduled to launch for the Xbox One, PS4, and PC on April 14th. You can learn more about the game by paying a visit to the official website.
Staff Writer at CinemaBlend.
Your Daily Blend of Entertainment News
Thank you for signing up to CinemaBlend. You will receive a verification email shortly.
There was a problem. Please refresh the page and try again.