Mortal Kombat X's Tanya DLC Is Almost Here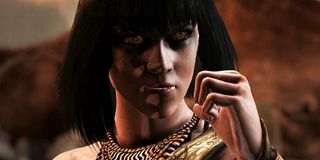 Mortal Kombat X will be adding another classic character to their roster soon. This weekend series creator Ed Boon gave an update on the release window for Tanya.
Boon confirmed a June release date for Tanya with a rhyme on Twitter. He also provided a picture of her Mortal Kombat X appearance:
Tanya was first introduced in Mortal Kombat 4. She was a worshipper of Shinook originally but has served a number of other big bads throughout the series. In MKX, she was allied with Mileena.
She's an acrobatic fighter who can empower her punches and kicks with fire magic. In a couple games, she was also able to go invisible as well. Like other Mortal Kombat X character, she has three variations for players to choose from. These different styles are called Kobu Jutsu, Dragon Naginata, and Pyromancer.
Tanya will be offered as part of The Klassic Pack #1. This bundle will also include retro skins for series veterans Sonya, Kano and Liu Kang. If past DLC is any indication, the skins and Tanya will be sold separately from each other as well.
This will be the second character pack released for Mortal Kombat X. The first, dubbed "The Ultimate Horror Pack," introduces Friday the 13th's Jason Voorhees to the game. It also included Vampiress Mileena, Kraken Reptile and Pharaoh Ermac skins.
Netherrealm has announced two other DLC packs so far, each adding another fighter and trio of skins:
The Predator / Prey Pack
Playable character Predator
Predator-themed skins Commando Johnny, Infrared Scorpion and Carl Weathers as Jax
The Klassic Pack #2
Playable character, Tremor
Klassic skins for Quan Chi, Jax and Kung Lao
All four character bundles are included with the $30 Kombat Pack. Owners of the Kombat Pack also get early access to each.
There's a chance that Netherrealm will keep adding characters to the roster after they completed their Kombat Pack plans. Players have found a way to become otherwise unplayable characters like Rain and Sindel by manipulating the game's files. Perhaps they'll be officially added to the roster later on?
Staff Writer at CinemaBlend.
Your Daily Blend of Entertainment News
Thank you for signing up to CinemaBlend. You will receive a verification email shortly.
There was a problem. Please refresh the page and try again.