Myst's Spiritual Successor Gets A Release Date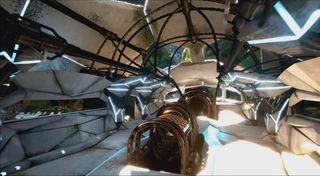 Cyan Worlds, the developers working on the spiritual successor to the classic adventure-puzzle game Myst, revealed that the official release date for their upcoming Unreal Engine 4-powered adventure title called Obduction will be July 26.
Game Informer has noted that Obduction is finally moving closer to seeing its release after getting hit with a few delays in the recent past. The game was originally Kickstarted to the tune of $1.3 million back in 2013... this was back when gamers were very willing and very open about handing over cash to see projects brought to life through the crowd-funding platforms. However, over time certain high-profile projects – such as Clang – ended up falling through, while other projects turned out to be scams, and a few more actually made it to Early Access only to get stuck in development limbo, resulting in them closing up shop.
Obduction is one of the few high-profile Kickstarters to actually land a release date and make it far enough in development to potentially see it through. Games like Wasteland 2 and Shadowrun Returns are just a few other notable titles based on long-running properties that gamers were really looking forward to, pumping millions of dollars into those projects to help bring them to life, and the developers saw them through all the way to release. In this case you just have to wait until the end of next month to get your hands on the spiritual successor to Myst.
They released a teaser trailer to coincide with the release date news, showcasing very little content but giving gamers an idea of what to expect from the upcoming first-person puzzle title.
The trailer tries not to give anything away about the upcoming title, only hinting and glimpsing at certain locations that players will visit and certain elements of the story that players will encounter.
We find out that the player-character has been abducted for some unknown reason and brought to a mysterious and strange land where there are remnants of civilization there, or at least the appearance of a civilization.
They don't exactly show how the game is played, but most assume it will be similar to titles like Riven, Myst or The 7th Guest, where you will move around and interact with various objects or puzzles that may blockade the path leading toward the next segment.
Graphically, Obduction looks great. The Unreal Engine makes it easy to sculpt both realistic and alien worlds that visually pop right out of the screen. And speaking of popping out of the screen, Obduction is being designed with VR headsets in mind. The game will support the Oculus Rift and the HTC Vive at launch, giving gamers with VR HMDs an opportunity to immerse themselves even further into the gameplay experience.
I don't think this will be the killer app that VR needs in order for it to really go mainstream, but fans of Myst looking to rekindle that same level of intrigue and mystery that they experienced when they first played the title more than 20 years ago can look forward to a similar experience when Obduction launches on July 26.
Staff Writer at CinemaBlend.
Your Daily Blend of Entertainment News
Thank you for signing up to CinemaBlend. You will receive a verification email shortly.
There was a problem. Please refresh the page and try again.