NeoGeo X Gold Gets 15 New Games In June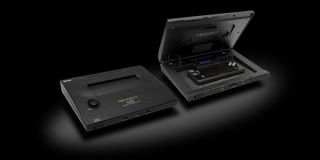 Despite only releasing a few months ago pre-loaded with a large handful of games, retro gamers rocking the decidedly old school NeoGeo X Gold are likely on the lookout for some new titles to enjoy on their new (and also old) handheld/home console. Well, you're in luck, as Tommo Inc. and SNK Playmore have announced a series of games packs that set to release starting June 25.
The NeoGeo X Gold is an odd console in that it only plays games for the classic NeoGeo home console. The big difference is that this handheld device can also be plugged into a console docking station that lets you play the games on your television, too. It's a nifty piece of kit, and one fans of yesteryear gaming should really be able to enjoy.
Until now, though, the only games available for the console were the ones that came pre-loaded on the hard drive. That's all ending on June 25, however, as 15 new titles are being offered in five game packs or a single, massive game pack for the retro console. Originally announced as a single offering, gamers now have a couple of different ways to dive into some new NeoGeo goodness.
Each of the five volumes in the NeoGeo X Classics series will feature three games a pop. The Mega Pack: Volume I will simply combine all of those games into a single purchase. Neo Geo X Classics: Volume I will offer Sengoku, Metal Slug 2 and Top Hunter: Roddy and Cathy. Volume II will have Samurai Shodown 3, Savage Reign and Super Sidekicks 3. The next offering, Volume III, will come packed with The King of Fighters '96, Blazing Star and Kizuna Encounter. Volume IV will be Garou: Mark of the Wolves, Shock Troopers and World Heroes 2 Jet. If you pick up Volume 5, you'll get The Last Blade, Blue's Journey and Art of Fighting 3. Finally, the Mega Pack: Volume I will include all of the above games, as well as the NeoGeo X Gold Rocket Cable high-speed charging travel cable at no extra cost.
Staff Writer for CinemaBlend.
Your Daily Blend of Entertainment News
Thank you for signing up to CinemaBlend. You will receive a verification email shortly.
There was a problem. Please refresh the page and try again.