Metal Slug 2 Rolls Out On iOS And Android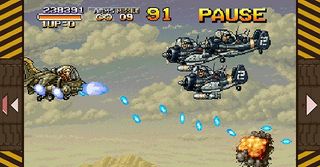 Android and iOS devices are set to be injected with another dose of Metal Slug goodness as hit classic run-and-gun action title, Metal Slug 2 launches on both platforms starting today.
This announcement, coming from SNK Playmore, should come as good news to those who have already been enjoying the series on mobile devices, as their collection can now be made complete. SNK Playmore released the original Metal Slug and Metal Slug 3 for mobile last year with the second installment in the series mysteriously missing from the lineup.
According to a statement from SNK, Metal Slug 2 for iOS and Android is a perfect port of the NeoGeo classic title, enhanced with several additional features, such as the ability to select any previously cleared level from start-up. A "Window Mode" will allow you to position the action buttons outside of the play area and the Autofire feature means you can simply hold the shoot button to keep pumping round after round into the enemy.
For those who want to relive the epic two-player co-op action of the original game, you can still partner up with a buddy thanks to Bluetooth multiplayer. Finally, network ranking functions means your best scores will now be pitted against the best players in the world.
In Metal Slug 2, female soldiers Eri and Fio join original commandos Marco and Tarma on a quest to put an end to General Morden's plans to take over the world. New weapons and vehicles are also available, meaning there's plenty of new content to keep players shooting for hours on end.
You can pick up Metal Slug 2 for $3.99 starting today from either iTunes or Google Play.
Staff Writer for CinemaBlend.
Your Daily Blend of Entertainment News
Thank you for signing up to CinemaBlend. You will receive a verification email shortly.
There was a problem. Please refresh the page and try again.