Newegg Offers Live-Configurator For iBuyPower Gaming PCs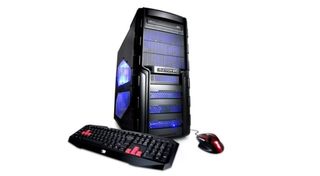 One of the things that PCPartPicker and other similar sites have been offering is a live configuration module to help gamers build the perfect PC. Well, Newegg is getting in on the new-wave of configuring PCs and they've done so by joining forces with iBuyPower.
Ahead of the Steam Machine launch, both companies have partnered together in order provide users with an easy-to-use method for building the ultimate gaming machine... or at least something close to it.
The configuration is setup with a very user-friendly GUI (graphics user interface) enabling customers to click into the section (opens in new tab), and then get an easy-to-read layout of how to build a PC. It really doesn't get any easier for people who are afraid of custom gaming rigs.
The section offers a base price for how much the total unit will cost over to your right, while the parts themselves are viewable in a selection list to the left.
Things start off with "Required" items... the components that you'll need just to have a working PC. From here you select the way you want your PC's hard case to look by picking from a number of different chassis. A motherboard and CPU combo are next on the list, offering various options at various price points.
RAM, GPUs and then a hard drive, and the required components are out of the way.
You can add in extraneous accessories such as a Blu-ray player for a few extra bucks or an operating system.
Unfortunately you can't choose to do without some of the features, as some people might already have a spare OS or disc-reader at home. I understand that the whole thing was designed to be user-friendly but not giving people the option to opt out of certain non-essential parts seems inconvenient.
Nevertheless, Darren Su, vice president of iBuyPower commented about the collaboration, stating that...
This actually comes at a pretty good time only because Valve's licensed Steam Machines have been delayed to 2015. This means that it gives Newegg and iBuyPower plenty of time to refine the parts configurator and fine-tune the experience to suit the needs of those who might want to consider using it for a Steam Machine.
Previously it was noted that iBuyPower's Machine was a far more cost-effective method than the Xbox One when they were both set for around the $500 price tag. Things have changed a bit, as the Xbox One is now $399 without Kinect and the Steam Machines may or may not hold on to their previous price-points.
Even still, if you can't wait for the Steam Machines to launch but you want to customize a gaming rig, you can try out NewEgg's configurator to see if it suits your needs.
You can check out the configurator by paying a visit to the Newegg website (opens in new tab).
Staff Writer at CinemaBlend.
Your Daily Blend of Entertainment News
Thank you for signing up to CinemaBlend. You will receive a verification email shortly.
There was a problem. Please refresh the page and try again.