Nintendo 3DS Sells 4.5 Million Units In One Year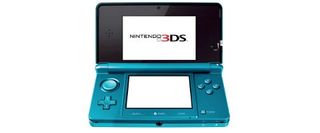 We're already coming up on the 3DS's one-year anniversary. With three weeks to go until the handheld's birthday, Nintendo has announced that they've sold over 4.5 million units in the United States alone.
"Nintendo 3DS closes its first year with a lengthy list of accomplishments but we're still just scratching the surface," said Nintendo of America President Reggie Fils-Aime. "With a massive lineup of first- and third-party games and more on the way, a budding library of entertainment options and an engaged and growing installed base, Nintendo 3DS has an incredibly bright future. We're just getting started but this platform is built for the long haul."
The 3DS one-year haul is nearly double that of the original DS. The DS sold 2.3 million units in the first year it was on sale. The software sales tell a similar tale. The 3DS sold over 9 million copies of the 100+ games available for the handheld, compared to 5 million copies of 58 games on the DS.
The sales of the 3DS stack up well against the Wii's sales, too. The handheld's one-year sales passed that of the Wii back in December.
The 3DS introduced glasses-free 3D to gamers. Some of the notable titles released for the device in the past year include The Legend of Zelda: Ocarina of Time 3D, Super Mario 3D Land and Mario Kart 7. 3D Land and MK7 are the fast-selling games in their respective franchises' history. Nintendo will end the 3DS' first year with the release of Kid Icarus: Uprising on March 23rd.
The handheld also offers other entertainment options besides gaming. Nintendo added Netflix support to the device this past summer. Players can also watch 3D video content through Nintendo Video, or record their own ten-minute videos.
Staff Writer at CinemaBlend.
Your Daily Blend of Entertainment News
Thank you for signing up to CinemaBlend. You will receive a verification email shortly.
There was a problem. Please refresh the page and try again.