Now There's A Pokemon Game For Adults And It's Everything You'd Hope It Would Be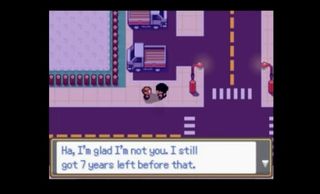 We all know Pokemon to be a pretty clean and kid-oriented game. But one fan has created his own version of Pokemon, called Pokmeon Apex, that's more suited for adults, including adult themes, swearing and horror.
The developer, Nate, described the project as,
So instead of just having some minor adult themes and language, the game will also be a little more difficult. But it's important to note this "adult" Pokemon game won't be anything like the "adult-rated" game you're thinking of; so no there won't be any pornographic scenes or NSFW images. But the game will be directed at an older audience than what Pokemon games are usually targeting. Post-puberty, to be exact. You can check out some gameplay below to see how it works.
While I think this is a fantastic idea, I also think Nintendo is going to act fast in taking it down, just like they did with the fan-made version of The Legend Of Zelda. Nintendo is very uptight about things like this, just as they are about people streaming their games on YouTube. So while I love this idea of a more adult Pokemon, sadly I don't think it's going to last very long, especially with all of the press it's getting.
So if you're going to download the Pokemon Apex version, you might want to do it quickly. And you can do so by visiting the official download page.
Your Daily Blend of Entertainment News
Your Daily Blend of Entertainment News
Thank you for signing up to CinemaBlend. You will receive a verification email shortly.
There was a problem. Please refresh the page and try again.