Here's How You Can Get Another Free Mythical Pokemon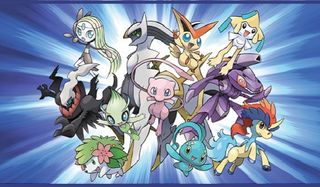 April is officially upon us, which means it's time to celebrate with another free legendary Pokemon to add to your collection. Luckily for all of you trainers out there, we've got the details on how you can get your hands on this latest offering from The Pokemon Company.
It's the Pokemon series' 20th birthday and, to celebrate, Nintendo and The Pokemon Company aren't ringing in the momentous occasion with a single day, week or even month's worth of prizes and events. No, they're taking a whole-dang-year to celebrate all things Pokemon, which translates to fantastic news for those of you who are still trying to catch them all.
As part of this year-long party, a new free legendary Pokemon is being given out each month for the rest of the year. Folks have already gotten their hands on Mew and Celebi in recent months and, throughout April, you can now add Jirachi to your collection.
In some cases you'll need to go to physical locations, like a GameStop store, in order to grab a special code to get your new mythical Pokemon. That was the case with Mew back in February. This time around, though, all you need to do is boot up your 3DS and get to downloading. Simply load your copy of either Pokemon X/Y or Pokemon OR/AS, hit the "Receive Gift" button and prepare to add your very own Jirachi to the team. This offer is good from now through April 24, so you've got a few weeks to get the lead out.
Over on the Pokemon website, they've got all of the pertinent stats for your new friend. The Mythical Pokemon Jirachi, who is made to resemble a shooting star, will arrive on your 3DS at Level 100. It's a Steel/Psychic critter with the ability Serene Grace. They also come with the moves Wish, Confusion and Rest.
Assuming you haven't already filled up your trainer boxes and overstuffed your Pokemon Bank, don't forget to claim your Jirachi within the next several weeks.
Once he's gone, we'll have a short break before The Pokemon Company releases additional details on how you'll be able to add May's Mythical Pokemon to your team.
As stated above, these promotions are only one part of the ongoing 20th anniversary celebration for Pokemon. In the past several months, we've already received some new 3DS bundles, saw the launch of the original Pokemon games on the eShop, and witnessed the creation of the world's largest Pokemon card.
Along with more free pocket-sized critters to add to your collection, we've still got Pokemon Go to look forward to on mobile devices, as well as the brand new generation of games, Pokemon Sun/Moon.
We're sure some additional surprises will pop up along the way, too, so keep your eyes out for more announcements as they become available.
Staff Writer for CinemaBlend.
Your Daily Blend of Entertainment News
Thank you for signing up to CinemaBlend. You will receive a verification email shortly.
There was a problem. Please refresh the page and try again.