New Pokemon Sun And Moon Trailer Reveals Starter Pokemon And Release Date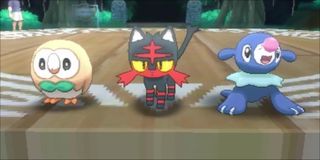 Nintendo and the Pokemon Company finally revealed the actual gameplay for Pokemon Sun and Pokemon Moon, giving gamers their first glimpse at the battle system, the starter Pokemon and the release date, which is set for November 18th this fall.
The trailer was posted this morning over on the Pokemon Channel, where they rolled through two minutes worth of gameplay.
After making a trainer players will pick from one of three Pokemon, including Rowlet, Litten and Popplio.
Rowlet is a grass and air-based Pokemon that gives you a little bit of the best of both worlds. It offers players similar attacks to Bulbasaur but with the added aerial sting of something like Farfetch'd. Rowlet seems like a decent all around starter in Pokemon Sun and Moon, offering players a companion that's effective against grass, fighting and bug type Pokemon.
Litten is a cat-looking Pokemon that's also a fire type. It features some blazing moves based on what was featured in the trailer, but it's mostly an unknown at this point. We don't get to see it do too much during the trailer, but it's pretty obvious that it's going to be one of the more favorite starter Pokemon based on how much positive feedback it's been receiving from the community after the Pokemon Sun and Moon trailer went live.
The last of the three starters is Popplio, a sea-lion type Pokemon that uses bubbles and water attacks to subdue opponents. We don't get to see it do much during the trailer but we do see it utilize a water cannon attack, letting gamers know that it's basically the Squirtle of this rendition of Pokemon.
After players have their trainer and starter Pokemon sorted, they'll proceed to venture through the land of Alola, opening up a brand new adventure for trainers.
This is the first time that we've managed to see some actual gameplay footage of Pokemon Sun and Moon, with full 3D Pokemon on display within a fully 3D rendered map. Previously, we had no idea what the gameplay was going to be like and only had to go by concept art and prototype renderings. Nintendo had promised some footage of the game before but when it was time to put up they just re-aired the original announcement trailer containing concept art.
It still baffles me why Nintendo wouldn't have waited to unveil the gameplay during E3, where they would have garnered a lot more eyes on the game and tons of hype. However, Nintendo has stated that they will be reserving E3 in its entirety for The Legend of Zelda for the Wii U. Sadly, we won't be seeing anything of the Nintendo NX either.
On the upside at least gamers have been able to get a glimpse of the gameplay for Pokemon Sun and Moon and now gamers know exactly when it'll be arriving on the Nintendo 3DS. Now it's just a matter of waiting until November 18 to pick up a copy.
Your Daily Blend of Entertainment News
Staff Writer at CinemaBlend.
Your Daily Blend of Entertainment News
Thank you for signing up to CinemaBlend. You will receive a verification email shortly.
There was a problem. Please refresh the page and try again.