Oddworld: Stranger's Wrath HD Release Date Set For Vita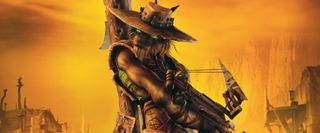 In a few weeks, PS Vita owners will be able to own the HD remake of Oddworld: Stranger's Wrath. Developer Just Add Water announced a December 18th release date for Stranger's Wrath HD in North America.
Stranger's Wrath stars a mysterious bounty hunter who needs to collect money for an operation. He has to hunt down outlaws and bring them to justice, alive or dead. The action's a mixture of platforming, melee combat, and first-person shooting. One notable feature was the live ammunition system. The Stranger uses creatures found throughout the world as ammunition, with each creature giving the weapon a different special effect.
The HD remake spruces up the visuals, replacing the original character models with more detailed versions. The audio has been touched up as well, with completely remastered dialogue. Trophies and other bonus content are also included. The PS3 edition, which arrived last December, also included PS Move and 3D support.
Like the PS3 edition, the Vita Stranger's Wrath HD will cost $15 to download. The game isn't a Cross Buy title, though, unlike some other Vita/PS3 releases. If you buy Stranger's Wrath on PS3, you won't get it on Vita for free and vice versa.
Just Add Water's Twitter account hasn't mentioned a European or Australian release date for the Vita version. However, they said to check back in a week.
JAW is the same company creating an HD remake of Oddworld: Abe's Oddysee. That particular remake is due in August 2013 on the Vita, PS3, Xbox 360 and PC.
Your Daily Blend of Entertainment News
Staff Writer at CinemaBlend.