One Piece: Pirate Warriors 2 Screenshots Welcome You With Open Arms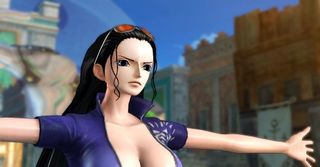 Namco Bandai sent out a ton of new screenshots for the upcoming One Piece: Pirate Warriors 2, the over-the-top thousand-pirate beat-e'm-up game that sees players taking control of the Straw Hat Pirates as they battle it out for booty and put all evil doers in their place.
Siliconera managed to get hold of lots and lots and lots of screenshots for Namco's upcoming title, which is a direct sequel to the smash hit that helped Namco Bandai take control of the market share in Japan during majority of the spring.
The screenshots are chock full of action, fighting, special attacks and lots of nosebleed-worthy large boobies. I didn't know Shonen Jump was into the fanservice thing, but some of the characters bring their assets to the fight in spades.
One Piece: Pirate Warriors 2 has been picking up a lot of steam lately thanks to a steady stream of assets being released to the public leading up to the game's mid-year release this summer for the PlayStation 3.
The hilarity and novelty of the game's aesthetic and design should be enough to waive off the claims that this is just another musuo grinder like many other games from Namco or Koei. You can check out the new screenshots below or visit the Official Namco Bandai Website to learn more about Pirate Warriors 2.
Staff Writer at CinemaBlend.
Your Daily Blend of Entertainment News
Thank you for signing up to CinemaBlend. You will receive a verification email shortly.
There was a problem. Please refresh the page and try again.