Original Pokemon Games Coming To 3DS Next Year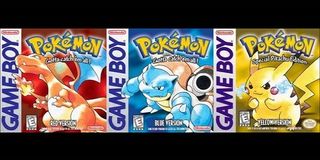 This week's Nintendo Direct was packed with big announcements but, alongside all of those new game nods, fans of classic Nintendo properties got a huge surprise: The original Pokemon Red, Pokemon Blue and Pokemon Yellow will arrive on the Nintendo 3DS through the eShop early next year.
That's certainly a sentence I never thought I'd be typing. Porting older Pokemon games to modern consoles may seem like an obvious move but, up until now, Nintendo has seemed uninterested in bringing old-school monster-catching goodness to the 3DS. It's always seemed like a lot of money being left on the table for no good reason but, as you'll see in this snippet from the full Nintendo Direct update, things are about to change.
That's right, fans of catching 'em all, the trio of Pokemon games that started it all will soon be coming to a 3DS near you. While it's really easy to get your hands on more recent entries like Pokemon X/Y or Pokemon OR/AS, folks who want to play series entries from the original Game Boy or Game Boy Advance needed to track down one of the antiquated consoles as well as the games. Hopefully the launch of Pokemon Red, Blue and Yellow is a sign of things to come and even more hard-to-find Pokemon games will follow.
As pointed out during the Direct, the only thing changing from the original games is the need of a cable connecting you and a friend's consoles. Now you'll be able to battle and trade wirelessly, meaning you'll get the full Pokemon experience without needing to sit 1.5-feet away from your pals.
While no price point has been announced yet, we figure this can go one of two ways. Either Nintendo will charge what they usually do for Game Boy games (about five bucks), or they'll decide that these highly-desired digital games are magically worth more money and up the price a bit. I wouldn't be surprised if there's some sort of a discount available for folks who buy two or even three of the games at once.
As for a release date, this trio of Pokemon games will be available on the 20th anniversary of their original Japanese launch, Feb. 27 of 2016.
If you've got 45 spare minutes this weekend, you might want to tuck in for the full Nintendo Direct. I'd argue it was packed with more announcements than Nintendo has made at any one time all year, with plenty of great surprises and colorful trailers to enjoy.
Your Daily Blend of Entertainment News
Staff Writer for CinemaBlend.