OverGrowth: Level Tutorial Featuring Beat-Boxing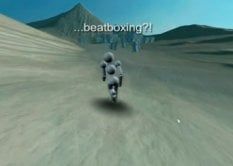 Literally, I'm not kidding about the beat-boxing…the new video tutorial for Wolfire's upcoming action-beat e'm up, OverGrowth, features beat-boxing. The entire video isn't composed of beat-boxing, but anyone who sees this video will get their fair share of it, I promise.
OverGrowth, the game, is the sequel to the indie project, Lugaru. Players command a kung-fu bunny with physics-based skills that allow them to catch punches and kicks, re-direct opponents motion with unique throws and enhance their combative damage with weapons. It's an interesting looking game to say the least.
To help promote the upcoming title (which will be available on Steam), developer Wolfire decided to release a video tutorial featuring the level-building system that comes with the game. Gamers will get to see Rabbot, some platforming action and some fairly easy-to-use level building schemes. The best part, though, is the beat-boxing. Really. Not a bad video, if you ask me.
You can learn more about OverGrowth or keep updated on the developer's latest progress by visiting the Official Wolfire Website. For more gaming news, info and updates, be sure to stay tuned in with Blend Games.
Your Daily Blend of Entertainment News
Staff Writer at CinemaBlend.