PAYDAY 2 Hotline Miami DLC Arrives On PC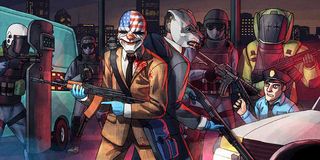 PAYDAY 2 and Hotline Miami's developers have combined forces for a bloody new experience. The latest DLC pack for PAYDAY 2 takes players on a heist inspired by the infamous top-down shooter.
"The dentist's long-term plans require leverage over Washington's District Attorney," Overkill Software says of the new, two-day heist. "The hotline to him goes through a Russian, known as the Commissar, operating out of Miami. Your job is to eliminate this Russian. Draw him out by sabotaging his operations in D.C."
Players will unlock several not-so-subtle weapons for use in this operation. These new armaments include uzis, a meat cleaver, and a baseball bat. The briefcase featured in one Hotline Miami mission also returns here as a melee weapon.
The iconic animal masks from Hotline Miami also appear in the DLC. Unlike the masks in Hotline, though, the ones in PAYDAY 2 won't grant you any special abilities.
PAYDAY 2 players can also unlock new patterns, materials and achievements. One thing to note about all the new items in this DLC, though, is that half of them are only available to Steam users that also own Hotline Miami. All the items marked with a red icon in the gallery below are exclusive to HM owners.
To be fair, though, you really ought to own Hotline Miami. It's one of the creepiest games in recent memory as well as a frantic, engrossing shooter. You'll find it well worth the $10. In fact, you'll probably enjoy that game more than this DLC.
The Hotline Miami DLC pack costs $6.99 to download. You'll also need to own Payday 2, which costs $29.99.
Hotline Miami developer Dennaton Games is currently working on a sequel set in the 1990's. The game was initially announced for a summer 2014 release. At one point Dennaton probably pictured this PAYDAY 2 DLC as a way to promote that game's launch. However, Hotline 2 is currently undated.
Image 1 of 10