Hotline Miami 2: Wrong Number Coming This Summer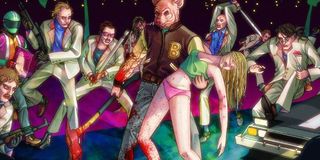 Hotline Miami 2: Wrong Number is just months away. The official Twitter account for the gory, top-down shooter revealed today that it will launch sometime in the third quarter of 2014.
Hotline Miami 2 begins years after the events of the first game. The Jacket has become a legend following his string of murders in Hotline. A group of admirers are making a slasher film based off Jacket's exploits. Meanwhile, a few more radical fans are now seeking to emulate the masked vigilante. They wear animal masks of their own and kill random criminals to carry on their idol's mission.
Gameplay will be similar to the first game. The player must kill all enemies in the level to proceed but will die if they take any damage. Quick reflexes and good timing are a must if you're going to survive each battle. Players can tip the odds in their favor with bonuses granted by the various animal masks.
There will be at least a few new features, however. Developer Dennaton has revealed that the game will have a hard mode, unlocked if you earn a C+ ranking or better on a level. Enemies will be tougher in hard mode and certain player abilities will be disabled. For example, you won't be able to lock onto enemies for easy firing. I found the original game plenty difficult but this new hard mode should give more advanced players the challenge they're looking for.
The first Hotline was one of my favorite games in 2012 so I'm excited about the sequel. It's too bad that we've got at least six months to wait, though. "3Q" runs from July 1st to September 31st.
Dennaton is developing Hotline Miami 2 for PS4, PS Vita, PC, Max and Linux. It's not clear yet what platforms will get the game on its initial launch, though. The first Hotline debuted on PC and then spread to other platforms over subsequent months. Dennaton could have a different approach this time around, however, because they're working with a sequel with an established audience now.
Staff Writer at CinemaBlend.
Your Daily Blend of Entertainment News
Thank you for signing up to CinemaBlend. You will receive a verification email shortly.
There was a problem. Please refresh the page and try again.