PS4 Release Date Set For Nov 15th In North America, Nov 29th In Europe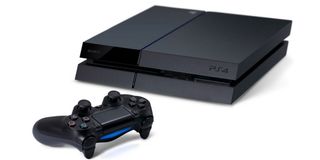 GamesCom 2013 is still going on but no one cares about anything else after this point. All the big focus was on Sony and their conference... it would have been on Microsoft and their conference had Microsoft decided to make their conference public, but they chickened out. Anyway, Sony dropped the big news and it was big. The PlayStation 4 is launching on November 15th in North America and November 29th in Europe.
Unfortunately, since I've put all the important news about the PlayStation 4 in the opening paragraph there's nothing else left to say except that the console will launch in 32 different countries.
Let's compare Sony and Microsoft (because I have to fill out a word count people, and there's nothing else left to say at this point)... Microsoft is launching the Xbox One at $499.99 and launching in only 13 markets (originally it was 21 but eight of those countries got hit with the delay button). Sony is launching the PlayStation 4 at $399.99 in 32 countries, it's region-free and it's as sexy as a runway model who doesn't suffer from bulimia.
Considering that I'm completely out of things to talk about at this point and I still really need to flesh out some more text to hit that word count... let's just move on over to the fact that the PlayStation 3 is being discounted down to $199.99 this holiday season. So even if you're too poor to buy a PlayStation 4 this fall, you can still put down a few hundred to be a part of the PlayStation family because they're all about the gamers. How's that word count? Still not there? All right then, moving on...
Yeah, so speaking of gamers -- and just to rub all this in -- Sony's Group CEO, Andrew House, took to the stage to completely smear in their awesomeness right in the face of Microsoft. And considering that Microsoft opted out of a public press conference there was no way for them to react to the shots fired. You can check out the video of Andrew House dogging Microsoft in a small clip below, courtesy of Gameranx, where Mr. House further confirms that yes, the PlayStation 4 will be in your neck of the woods either November 15th or November 29th for only $399.99.
If that news doesn't make you excited for the next-gen, then there's no hope... no hope at all. And with that, it looks as if I may have hit the necessary word count, so it's time to move on to the next story.
Your Daily Blend of Entertainment News
Staff Writer at CinemaBlend.