PS4's Remote Play Is Going To Extend Its Capabilities To PC, Get The Details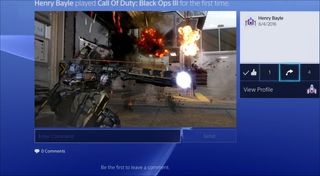 Gamers have been asking for it and Sony's worldwide studios president, Shuhei Yoshida, promised they would give it to gamers. What have gamers been asking for? Remote play via PC. Sony has implemented remote play via PC, Mac and Windows 10 platforms for the PS4's 3.5 update.
GamesRadar did a quick write-up on the PS4 remote play options and the resolution and frame-rate in which they can be played. It's noted that your bandwidth speed between your router and devices will determine how fast you can stream in-home, and your general net connection will determine how fast you'll be able to remote play for devices not connected to the router.
• Resolution options: 360p, 540p, 720p
• Default resolution – 540p
• Frame rate : Standard (30fps), High (60fps)
• Default frame rate – Standard (30fps)
Now before getting into the other details, it's worth noting that now both the Xbox One and PS4 support remote play through PCs.
However, what's interesting is that despite the PS4 typically having higher resolution games than the Xbox One, the remote streaming options don't support those resolutions... yet.
Back in August of 2015, some users tampered with the settings in the Xbox One's in-home streaming menus and on their Windows 10 PCs to unlock the 1080 at 60fps resolution and frame-rate option. Essentially, Xbox One owners could stream games on very high settings, maxing out the resolution and FPS equivalent to the highest-end console games that make use of those specifications.
The interesting part about it is that it's not just the hardware capabilities of the PC but the bandwidth throughput from the end-user's ISP and network hardware. Some savvy PC and Xbox One owners managed to boost up the quality of the streams to support 1080p at 60fps, but it zaps 13Mbp/s... that's 13 megabyte per second. Those with bandwidth caps certainly won't be able to make use of that kind of high-end streaming, but it's nice that the optional is available... on the Xbox One.
Sony will have to step their game up in this area because they're essentially playing catch-up to Microsoft. It's cool that the PS4 finally has this feature but it's a shame it's so low end. The inclusion of remote play isn't the only thing present in update 3.5, though. Sony released a quick video discussing some of the other features as well, such as new notification options and sharing capabilities.
The new notification feature is something a lot of gamers have been requesting for some time, because they might want to appear offline or avoid being interrupted when playing a game or watching a movie. That's now an option.
For the more socially-oriented gamers, there's the new multiplayer event features that allows PS4 owners to create groups and invite friends to those groups to play games at specific times. It's like a game scheduler. You can even share group and events on the community page to find new friends, enemies, rivals and allies.
You can learn more about some of the details in firmware update 3.5 by visiting the official PlayStation Blog.
Staff Writer at CinemaBlend.
Your Daily Blend of Entertainment News
Thank you for signing up to CinemaBlend. You will receive a verification email shortly.
There was a problem. Please refresh the page and try again.